In the News
December 26, 2017

DeCordova partnership to enhance Lincoln hospice care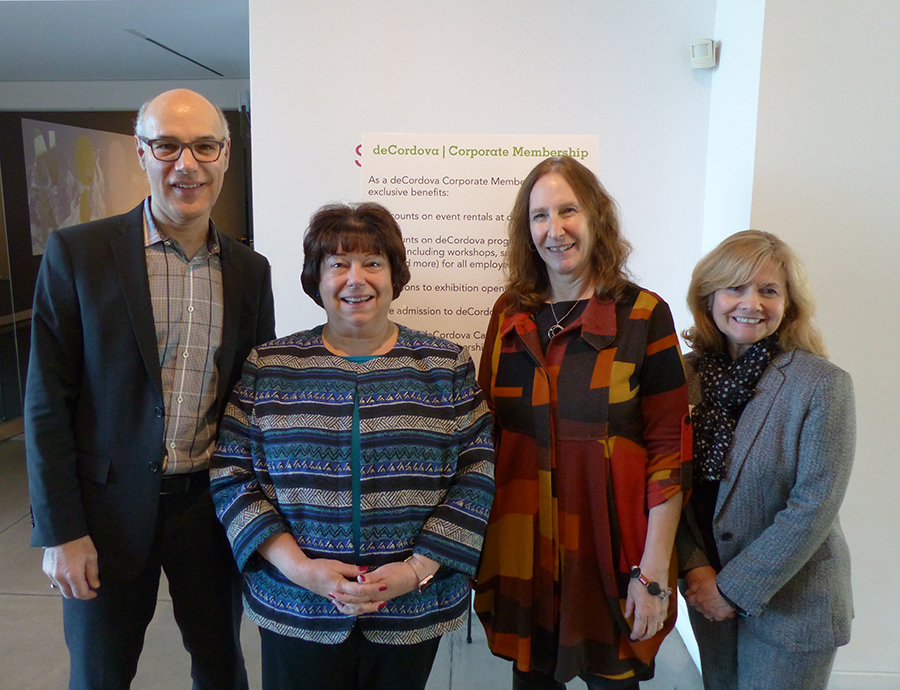 deCordova Sculpture Park and Museum Executive Director John Ravenal, Care Dimensions President Patricia Ahern, Care Dimensions Board Member Ellen Smith and deCordova Sculpture Park and Museum's Director of Corporate Relations and Art Loan Program Sharon Glennon.
Nonprofit hospice organization Care Dimensions and the deCordova Sculpture Park and Museum in Lincoln have partnered together to enhance the patient and visitor experience at the new Care Dimensions Hospice House in Lincoln on the Waltham line
The new 18-bed hospice facility, slated to open in February, combines the comfort of home with the benefits of round-the-clock medical care for hospice patients, and it is designed to provide an alternative to hospitalization for patients who require specialized care for acute pain and symptoms that no longer can be managed in their home setting.
Imparting comfort and care are an integral component to the design and decor of the new facility. Patient suites overlook landscaped gardens or the Cambridge reservoir and comfortable common areas include guest kitchen and dining areas, livings rooms, childrens area, counseling rooms and a chapel.
Family and friends are always welcome, as well as family pets. In addition, complementary therapies including massage, reiki, music, art and pet therapy will be available to provide comfort and relaxation and to decrease physical pain and stress.
"In choosing design elements for the interior of the new house, we saw a need to enlist help when it came to selecting just the right artwork for our gathering spaces," said Mary Simboski, vice president of philanthropy at Care Dimensions. "We immediately thought of the deCordova. They have an incredible reputation of inspiring and enriching their visitors, and we are thrilled to partner with them through their Art Loan program."
Unique to deCordova, the Art Loan program is a membership benefit that provides area businesses and organizations the opportunity to exhibit artwork of both established and emerging contemporary New England artists in their spaces. Staff from the deCordova will work closely with Care Dimensions to assess artwork needs, determine appropriate exhibition locations, and make curatorial recommendations for exhibition content. The original artworks available for loan are from deCordova's extensive permanent collection and are augmented by the artwork of lending artists.
"We are excited about this partnership," said Care Dimensions board member Ellen Smith. "We are grateful to the talented deCordova staff for providing pieces that blend in with the feel and surroundings of the facility, all the while accomplishing the goal of giving our patients and their loved ones visual arts that are soothing, contemplative and inspiring."
To learn more about the new Care Dimensions Hospice House or to schedule a private tour: Kelly Taranto, 781-373-6512, ktaranto@caredimensions.org.