In the News
March 30, 2016

Regatta art inspired by Marblehead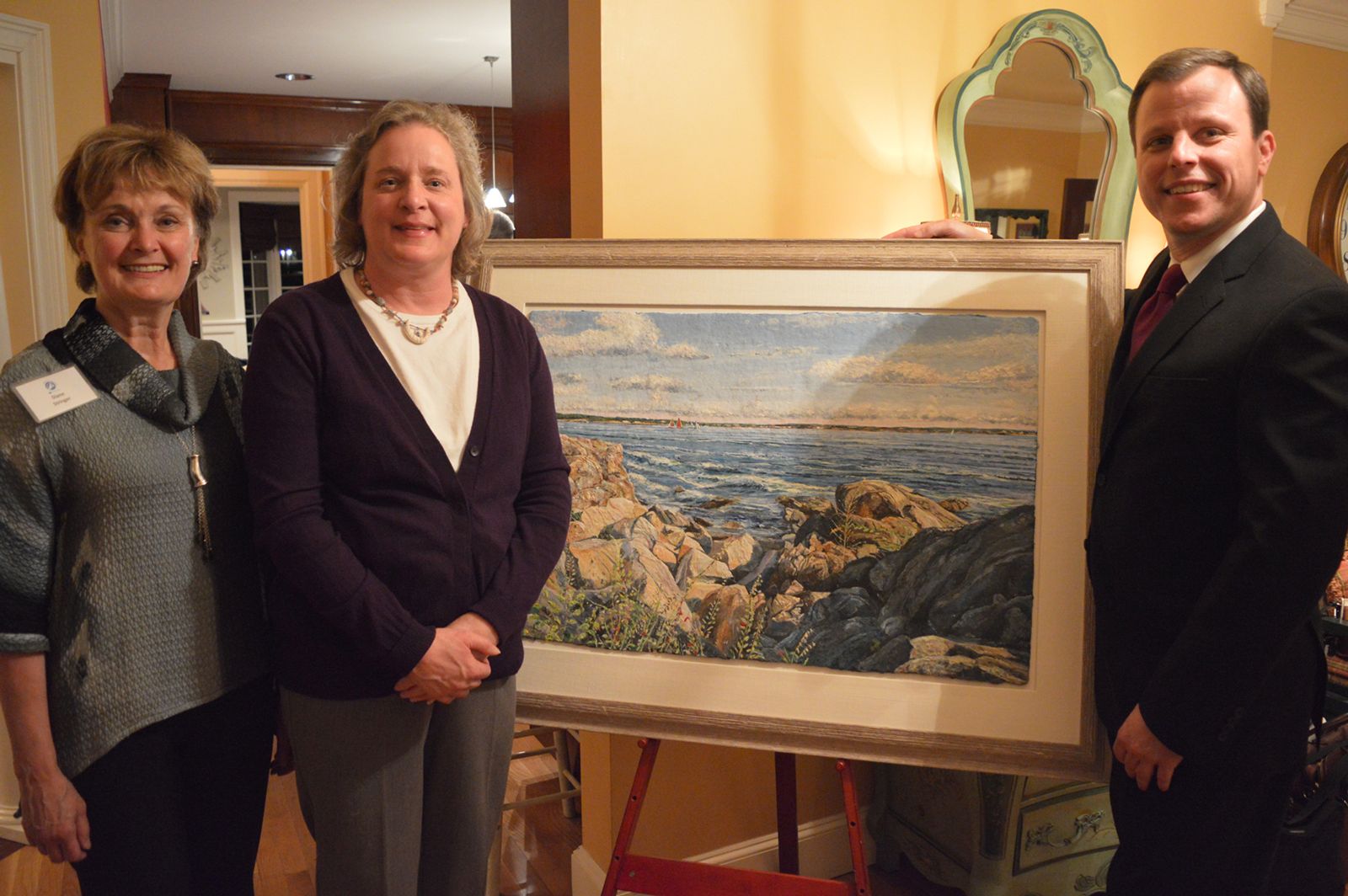 Artist Meg Black (second from left) with her artwork, Memories of Marblehead with Diane Stringer (far left), president of Care Dimensions and Auctioneer Paul Zekos, at the recent Care Dimensions Hospice Auction & Regatta kick-off party. Courtesy Photo
Meg Black of Topsfield is the signature artist for the 22nd Annual Care Dimensions Auction & Regatta. Black, created "Memories of Marblehead," a 24 by 36 painting made with fibrous pulp and handmade paper in a process pioneered by Black. The artwork's seascape vantage starts on the edge of Marblehead's rocky shoreline gazing to the horizon, which lies in between the changing skies and crashing waves. Black has been a practicing artist using fibrous pulp for over 24 years and is one of a handful of artists working in this medium.
The donated artwork will be featured on all Regatta materials and limited edition prints and notecards will be made of the painting with proceeds to benefit Care Dimensions. The original painting will be auctioned during the Hospice Dinner & Auction on Friday, June 17, 2016 at the Boston Yacht Club, 1 Front St., Marblehead. The Hospice Regatta will take place on Sunday, June 19, 2016, also at the Boston Yacht Club in Marblehead.
Care Dimensions continues to pioneer new programs and services to meet the needs of families facing one of life's greatest challenges. Proceeds from the Hospice Auction and Regatta support the Care Dimensions' mission to provide comprehensive and compassionate support for children and adults with advanced illness, death and loss. Black's painting will on display at Arnould Gallery and Framery in Marblehead in the weeks prior to the auction. Proxy bids may be placed by contacting Care Dimensions. Please contact Susan Rogers at 978-750-9357 or SRogers@CareDimensions.org for more information about event sponsorship, tickets, proxy bids and the Regatta. For more information, visit www.CareDimensions.org.