News Releases
October 10, 2019

Care Dimensions Appoints New Vice President of Philanthropy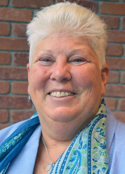 Danvers, Mass--Care Dimensions, the largest provider of hospice and palliative care services in Massachusetts, has named Donna Deveau as the new Vice President for Philanthropy. In this role, she will lead efforts to build private support of Care Dimensions' work and mission.
Deveau comes to Care Dimensions with over 20 years' experience in nonprofit leadership, including management and oversight of comprehensive philanthropy programs for home care and hospital organizations.
"We're very fortunate to have someone with Donna's depth of experience and knowledge of our communities as our new VP for Philanthropy," said Patricia Ahern, Care Dimensions President & CEO. "She will be a great asset as we work to grow our philanthropy program throughout the 95 communities we serve."
Most recently, Ms. Deveau served at Home Health Foundation in Lawrence, where she was Vice President of Corporate Communications and Community Engagement for the past four years and Director of Development/External Relations since 2011.
Donna Deveau holds a B.S. in accounting and an M.Ed. in administration from UMass Lowell. She is a member of the New England Association for Healthcare Philanthropy, The Association of Fundraising Professionals and Associate Grant Makers.
About Care Dimensions
Care Dimensions is the largest hospice and palliative care provider to adults and children in Massachusetts. As a non-profit, community-based leader in advanced illness care, Care Dimensions provides comprehensive hospice, palliative care, grief support in more than 95 communities in Eastern Massachusetts. Care Dimensions was founded in 1978 as Hospice of the North Shore, and cares for patients wherever they live – in their homes, in skilled nursing facilities and assisted living communities, in hospitals, or at our two inpatient hospice facilities (the Care Dimensions Hospice House in Lincoln, and the Kaplan Family Hospice House in Danvers). Additionally, Care Dimensions HomeMD program provides in-home primary care to patients over age 65 in select communities on the North Shore and Greater Boston who have difficulty leaving home. The Care Dimensions Learning Institute educates more than 7000 healthcare professionals and community members each year on advanced illness and end-of-life topics. To learn more about Care Dimensions, please visit www.CareDimensions.org.

Care Dimensions Hospice House Video Tour
The Care Dimensions Hospice House, located in Lincoln on the Waltham town line, is a gracious and private home-like setting for patients who need hospital-level care for complex pain and symptom management. To learn more, call our Referral Center at 888-287-1255.