News Releases
October 4, 2019

Care Dimensions Director of Professional and Community Education Recognized by SeniorCare Inc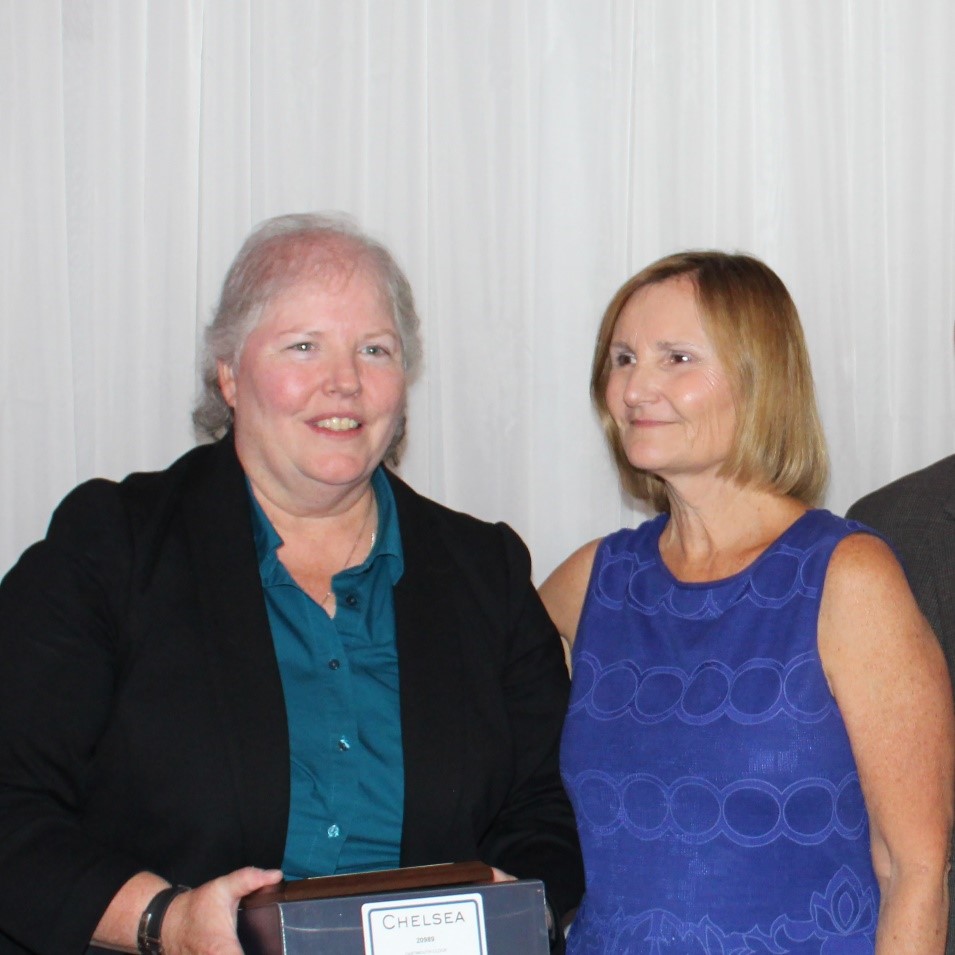 L-R: Mary Crowe, Director, Professional and Community Education, Care Dimensions, and Dori Prescott, Director, SeniorCare.
SeniorCare Inc. has presented Care Dimensions Director of Professional and Community Education Mary Crowe, LICSW, ACHP-SW, of Ipswich, with its 2019 Board of Directors Community Partners Special Recognition Award. Crowe was recognized for her work as an educator to caregivers and professional practitioners throughout the North Shore.
For the past 13 years, Crowe has led Care Dimensions' educational outreach by coordinating and delivering hundreds of programs each year on topics surrounding advanced illness and end of life for healthcare professionals, families, and community groups in diverse settings across Care Dimensions' service area. In 2018 alone, she provided 525 programs and educated over 7,000 people.
Founded in 1972, SeniorCare Inc. provides information and services to elders and adults with disabilities on Massachusetts' North Shore. The annual awards recognize an individual, agency or community partner who supports and contributes to the SeniorCare mission and who works with older adults, particularly people with disabilities and their caregivers.
"In her educational programs, Mary gives her trainees personal resources to perform difficult tasks with grace and empathy," said Tracy Arabian, Marketing & Development Officer for SeniorCare Inc.
"Mary's leadership of our Care Dimensions Learning Institute fills a huge void of unmet need in the healthcare industry to provide education on end-of-life topics," said Care Dimensions CEO Patricia Ahern. "She is fully committed to dispelling myths and misconceptions about hospice so that healthcare providers and caregivers can better provide patients with dignity, comfort and control at end of life."
This year, Senior Care Inc recognized three local individuals for their power in supporting the community of Gloucester and Cape Ann. The awards were part of SeniorCare Inc's 47th Anniversary Gala Celebration held in Gloucester.
Learn more about the Care Dimensions' Learning Institute and our educational resources for healthcare professionals, families, and community groups.

Care Dimensions Hospice House Video Tour
The Care Dimensions Hospice House, located in Lincoln on the Waltham town line, is a gracious and private home-like setting for patients who need hospital-level care for complex pain and symptom management. To learn more, call our Referral Center at 888-287-1255.