News Releases
November 13, 2020

Care Dimensions Receives Rotary Disaster Response Grant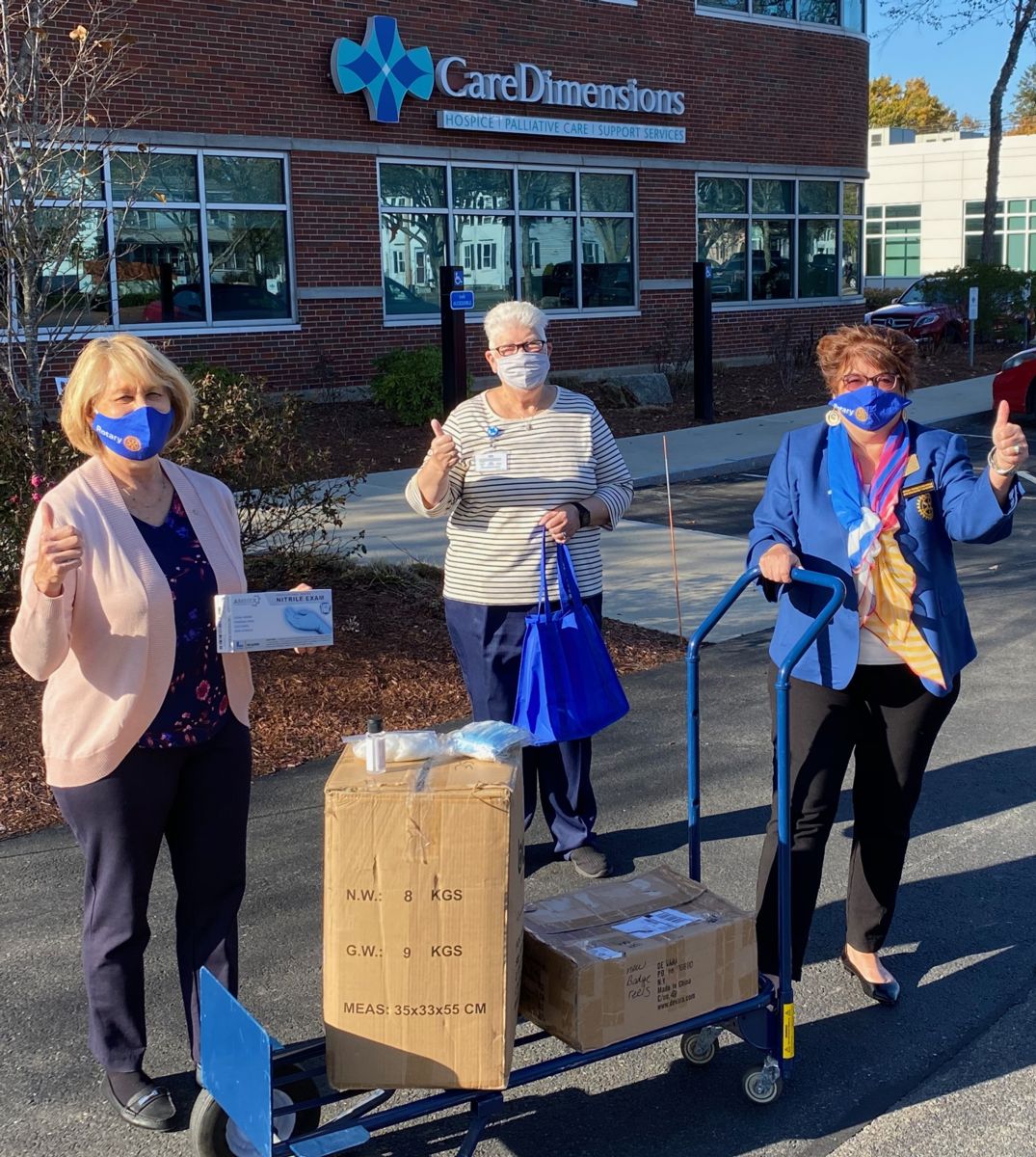 Care Dimensions, the largest hospice and palliative care provider in Massachusetts, received a $3,125 grant from Rotary Club of Danvers, part of Rotary District 7930, to purchase Personal Protective Equipment (PPE) for frontline workers. The grant is part of the $25,000 Disaster Response grant awarded to District 7930 by The Rotary Foundation.
"Care Dimensions is grateful for Rotary's support of our work providing hospice and palliative care by funding critical personal protective equipment for our staff who are on the front lines of the COVID-19 pandemic," said Patricia Ahern, Care Dimensions president and CEO. "Rotary makes an extraordinary impact on our communities and throughout the world, and we are honored they have chosen to assist our care teams on the North Shore."
"When the COVID-19 pandemic hit our region hard, I saw the opportunity to address the needs of healthcare providers firsthand," said Joan Arsenault, District Governor for 2019 – 2020 and a professional healthcare provider. "Rotary District 7930 and the Danvers Rotary Club are proud to provide this support to Care Dimensions."
Photo cutline: Joining Donna Deveau, Care Dimensions Vice President of Philanthropy, center, are Becky Kilborn, Danvers Rotary co-President, left, and Joan Arsenault, Immediate Past District Governor, District 7930.
About Care Dimensions
Care Dimensions is the largest hospice and palliative care provider to adults and children in Massachusetts. As a nonprofit, community-based leader in advanced illness care, Care Dimensions provides comprehensive hospice, palliative care, grief support 100 communities in Massachusetts. Founded in 1978 as Hospice of the North Shore, Care Dimensions cares for patients wherever they live – in their homes, in skilled nursing facilities and assisted living communities, in hospitals, or at our two inpatient hospice facilities, the Care Dimensions Hospice House in Lincoln and the Kaplan Family Hospice House in Danvers. Additionally, Care Dimensions HomeMD program provides in-home primary care to patients over age 65 in select communities on the North Shore and Greater Boston who have difficulty leaving home. The Care Dimensions Learning Institute educates more than 7,000 health care professionals and community members each year on advanced illness and end-of-life topics. Please visit www.CareDimensions.org to learn more about Care Dimensions.
About Rotary District 7930
Rotary District 7930 includes 47 Rotary clubs located in Northeastern Massachusetts plus Salem, NH.
About Rotary International
Rotary International is the world's first service club organization, with more than 1.2 million members in 33,000 clubs worldwide. Rotary club members are volunteers who work locally, regionally, and internationally to combat hunger, improve health and sanitation, provide education and job training, promote peace, and eradicate polio under the motto, "Service Above Self."

Care Dimensions Hospice House Video Tour
The Care Dimensions Hospice House, located in Lincoln on the Waltham town line, is a gracious and private home-like setting for patients who need hospital-level care for complex pain and symptom management. To learn more, call our Referral Center at 888-287-1255.