News Releases
May 26, 2021

Care Dimensions' Advanced Cardiac Care Program Enhanced by Collaboration with American Heart Association and National Partnership for Healthcare and Hospice Innovation
Program improves quality and access to hospice and palliative/advanced illness care for heart patients, reduces unwanted rehospitalizations, improves quality of life, and allows patients to live and die in comfort outside of a hospital
Danvers, MA — Care Dimensions, the largest hospice and palliative care provider in Massachusetts, is pleased to announce that its advanced cardiac care program for hospice patients served as the foundation for a new program launched in collaboration with the National Partnership for Healthcare and Hospice Innovation (NPHI) and the American Heart Association (AHA).
Recognizing the huge unmet need of patients across the country with advanced cardiac disease—only 5% of heart failure patients discharged from the hospital utilize hospice services—Care Dimensions joined with five other NPHI members with established cardiac programs to lead the development of this new national model of care for hospice and palliative care patients with advanced cardiac disease.
Thirty NPHI-member non-profit hospices across the country have joined in a demonstration project to increase access to advanced cardiac care for patients with heart disease. Each year, more Americans die from heart disease than any other condition, including cancer. Heart disease is also a leading cause for hospitalization: patients with congestive heart failure alone account for more than one million inpatient admissions annually.
Care Dimensions Cardiac Program
Since 2012, Care Dimensions has offered a specialized care program for hospice patients with advanced cardiac disease. The new NPHI-AHA program focuses on consumer awareness, patient and caregiver education and symptom management. In addition to the national resources, Care Dimensions' cardiac program provides daily calls or telehealth monitoring to track vital signs and symptoms to support the patient and family, so that symptoms of congested heart failure are recognized early and symptoms are better managed at home to avoid health crises and unnecessary hospitalization. The program has achieved outstanding results, as witnessed by these patient outcomes in 2020:
Only 1.65% of patients on the program were re-hospitalized with cardiac symptoms in the first 30 days
53% received free daily telehealth monitoring (paid for by Care Dimensions)
26% utilized one of Care Dimensions' Inpatient Hospice Houses for symptom management
0% died in the hospital. All patients who died on the program were at home or at one of the Hospice Houses
"Care Dimensions was honored to share our expertise on caring for patients with advanced cardiac disease with our fellow NPHI members," said Care Dimensions President and CEO Patricia Ahern. "Especially during this COVID-19 crisis in which patients have delayed cardiac care, and cardiac complications have contributed to 40 percent of all COVID-19 related deaths, it's vital for us to raise awareness of how hospice and palliative care can improve a patient's quality of life, keep their symptoms in check, and keep them home instead of in and out of the hospital"
"Emergency room and hospital visits take a substantial emotional and financial toll that can be averted with patient-centered care programs administered at home and at treatment centers from hospice and advanced illness providers," said Nancy Brown, chief executive officer of the American Heart Association.
Cameron Muir, MD, chief innovation officer of NPHI added, "Through the powerful collaboration of the American Heart Association and NPHI, we have developed simple, accessible resources that every family in America should know about and to help reduce the current devastating gaps in care."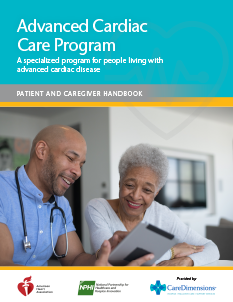 Free Patient and Caregiver Guide for Advanced Cardiac Care Now Available
Copies of the Patient and Caregiver guide may be downloaded here or individuals may request a print copy by calling 781-373-6651 or emailing CardiacGuide@CareDimensions.org. To learn more about the Cardiac Care program, please visit CareDimensions.org/Cardiac or call 888-287-1255.

About Care Dimensions
Care Dimensions is the largest hospice and palliative care provider to adults and children in Massachusetts. As a nonprofit, community-based leader in advanced illness care, Care Dimensions provides comprehensive hospice, palliative care, and grief support in more than 100 communities in Massachusetts. Founded in 1978 as Hospice of the North Shore, Care Dimensions cares for patients wherever they live – in their homes, in skilled nursing facilities and assisted living communities, in hospitals, or at our two inpatient hospice facilities, the Care Dimensions Hospice House in Waltham and the Kaplan Family Hospice House in Danvers. Additionally, Care Dimensions HomeMD program provides in-home primary care to patients over age 65 in select communities on the North Shore and Greater Boston who have difficulty leaving home. The Care Dimensions Learning Institute educates more than 7,000 health care professionals and community members each year on advanced illness and end-of-life topics. Please visit www.CareDimensions.org to learn more about Care Dimensions.
About the National Partnership for Healthcare and Hospice Innovation
The National Partnership for Hospice Innovation (NPHI) is a collaborative of 70+ not-for-profit, community-integrated, hospice and palliative care providers from across the United States who play a unique role as a crucial safety net for the sickest, most vulnerable patients in the communities they serve. For more information, visit www.hospiceinnovations.org.
About the American Heart Association
The American Heart Association is a leading force for a world of longer, healthier lives. With nearly a century of lifesaving work, the Dallas-based association is dedicated to ensuring equitable health for all. We are a trustworthy source empowering people to improve their heart health, brain health and well-being. We collaborate with numerous organizations and millions of volunteers to fund innovative research, advocate for stronger public health policies and share lifesaving resources and information. Connect with us on heart.org, Facebook, Twitter or by calling 1-800-AHA-USA1.
For Media Inquiries and AHA/ASA Expert Perspective: 214-706-1173, Karen Springs
For Public Inquiries: 1-800-AHA-USA1 (242-8721)

Care Dimensions Hospice House Video Tour
The Care Dimensions Hospice House, located in Lincoln on the Waltham town line, is a gracious and private home-like setting for patients who need hospital-level care for complex pain and symptom management. To learn more, call our Referral Center at 888-287-1255.