News Releases
December 5, 2014

Danvers Resident Receives Rick Vescovi Award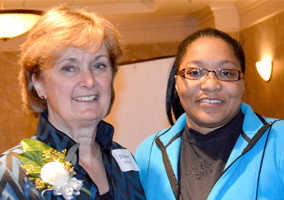 Care Dimensions President and CEO Diane Stringer with award winner Dawnett White
DANVERS, Mass.—Care Dimensions, formerly Hospice of the North Shore & Greater Boston, announces that Dawnett White, RN, CHPN, a performance improvement and education coordinator, was awarded the nonprofit organization's Rick Vescovi Memorial Award at a recent staff appreciation dinner. The award was established in memory of Rick Vescovi, a social worker for the organization who passed away in 2007. Care Dimensions President Diane Stringer announced White as the winner, saying that she epitomized the qualities that Vescovi was known for, including: a collaborative work style, a friendly open and accepting manner; a humble and unassuming nature, loyalty and a good sense of humor. White, a current Danvers resident and formerly a long-time Salem resident, has been with the hospice provider for four years. In her role, she trains new clinical employees and provides ongoing educational and training opportunities for existing employees. Stringer characterized White as someone who understands and practices the mission of Care Dimensions. "She represents us well and we are so lucky to have her on our staff," Stringer said.
Care Dimensions is the most comprehensive, diversified and largest provider of high-quality and compassionate care for adults and children with advanced illness in Massachusetts. Care Dimensions' unmatched depth and breadth of service enables individualized care for patients and their loved ones. Services include hospice, palliative care, chronic disease management, grief support and teaching programs. Founded in 1978 as Hospice of the North Shore, Care Dimensions has been caring for patients – in their homes, in long-term care and assisted living communities, in hospitals and at our Kaplan Family Hospice House – throughout all stages of advanced illness.
Care Dimensions Employees Celebrate Circle of Life Award

In celebration of winning the prestigious national 2015 Circle of Life award honoring innovation in hospice and palliative care, the staff of Care Dimensions took to song "performing" (with vocal assistance from the Mormon Tabernacle Choir) the iconic Circle of Life song. Enjoy!
To view photos from our Circle of Life Award celebration, click here.