News Releases
August 6, 2019

Danvers-Based Admissions Director Appointed to National Hospice Ambassador Program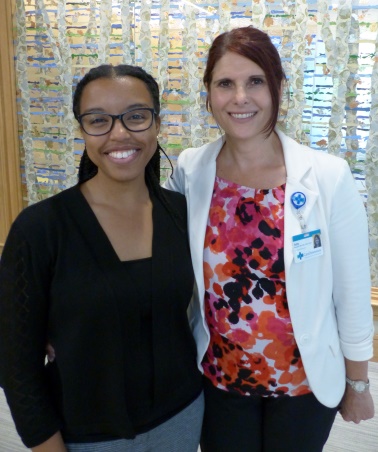 Patty Ramsden (right) with Farrah Ridore, regional director for Sen. Elizabeth Warren. Patty was conducting a tour of the Care Dimensions Hospice House and explaining end-of-life clinical care services to Sen. Warren's director.
Danvers, Mass.--Patricia (Patty) Ramsden, RNC, BSN, CHPN, director of admissions at Care Dimensions, has been named a hospice ambassador for Massachusetts by the into the National Hospice and Palliative Care Organization (NHPCO).
As a hospice ambassador, Ramsden will enhance awareness of hospice and palliative care issues, and help lead grassroots efforts in Massachusetts. She will do this by educating and forging relationships with members of Congress.
"I believe that our policymakers need to hear from those who are doing the work," says Ramsden.
The NHPCO Ambassador Program is a campaign to reinforce the value of Medicare hospice benefits among policy and healthcare decision makers and to advocate for policies that ensure the best care for patients and families facing the end of life.
Based on a competitive nomination and selection process, NHPCO appoints two ambassadors from each targeted state, and one per Congressional district.
"I had done a few advocacy events in Washington with NHPCO. Now, this formal ambassador role will give me a greater reach to advocate for changes that can improve access and care," says Ramsden.
Based on her 23 years of professional nursing experience--plus her passion and advocacy for equity in and access to quality end-of-life care--Ramsden was nominated for this role by the Care Dimensions Leadership Team.
Ramsden says: "This role fits the mission of Care Dimensions, and I am inspired to help make changes for patients and families that will improve care on a state and national level."
About Care Dimensions
Care Dimensions is the largest hospice and palliative care provider to adults and children in Massachusetts. As a non-profit, community-based leader in advanced illness care, Care Dimensions provides comprehensive hospice, palliative care, grief support and teaching programs in more than 95 communities in Eastern Massachusetts.
Celebrating 40+ years of service, Care Dimensions was founded in 1978 as Hospice of the North Shore, and cares for patients wherever they live – in their homes, in skilled nursing facilities and assisted living communities, in hospitals, or at our two inpatient hospice facilities (the Care Dimension Hospice House in Lincoln, and the Kaplan Family Hospice House in Danvers). To learn more about Care Dimensions, please visit www.CareDimensions.org.
Care Dimensions Hospice House Video Tour
The Care Dimensions Hospice House, located in Lincoln on the Waltham town line, is a gracious and private home-like setting for patients who need hospital-level care for complex pain and symptom management. To learn more, call our Referral Center at 888-287-1255.