News Releases
October 22, 2021

Four Care Dimensions Hospice Aides Recognized for Compassionate Care
Care Dimensions, the largest hospice and palliative care provider in Massachusetts, is proud to announce that four of the 10 winners of the annual Compassionate Service Award presented by the Hamel-Lydon Chapel & Cremation Service of Massachusetts are hospice aides who work at Care Dimensions.
The Care Dimensions hospice aides honored are Cindy Berry of Danvers, Sandra Guillen of Beverly, Assumptah Mwai of Lawrence and Unia Nabakooza of Lowell. All submitted short essays about why they work in health care and about their patients' impact on their careers.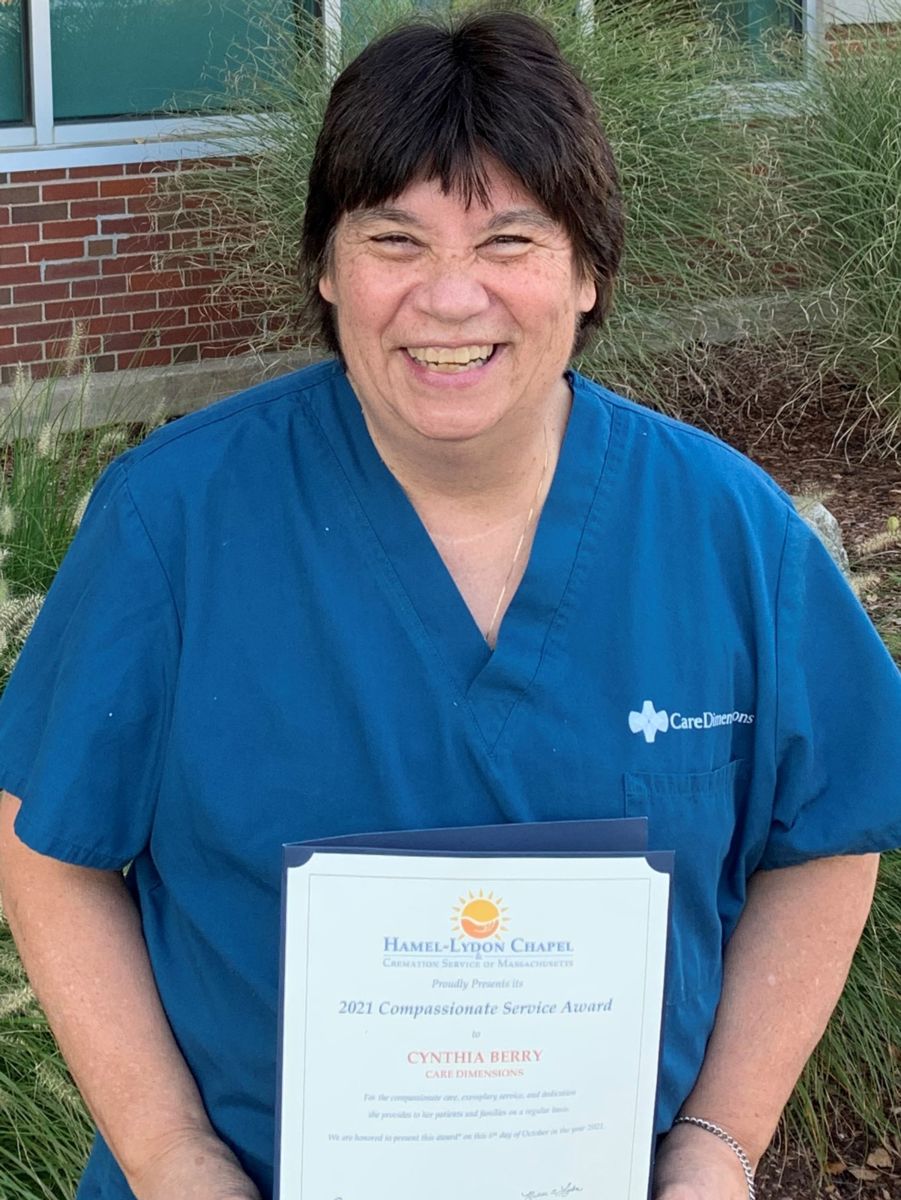 "No matter how busy I might be, I take the time to listen because many times, listening is the best medicine for my patients and their family members," Danvers resident Cindy Berry said. "I try to bring that sense of compassion to all that I do and everyone that I meet – my patients, their families, and my co-workers."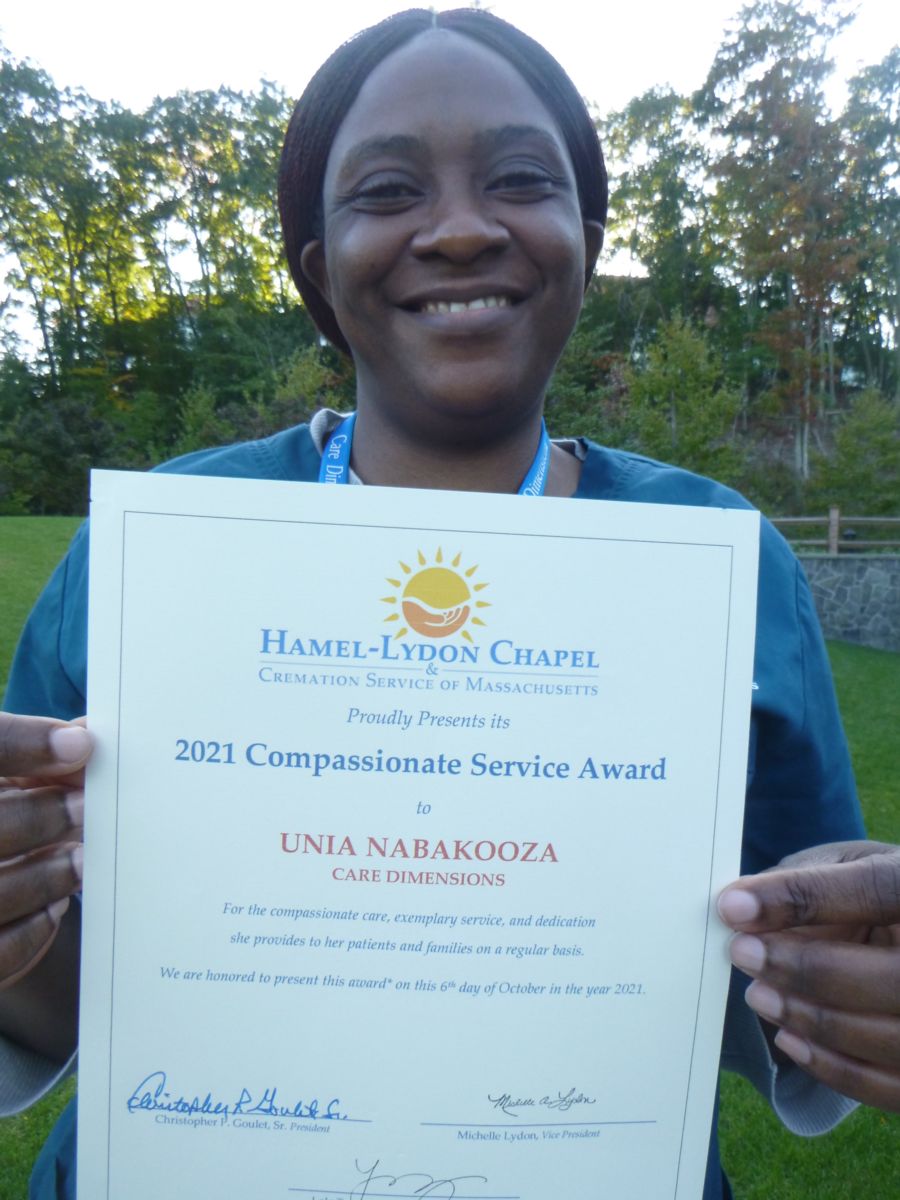 Nabakooza wrote about her patient Mary who always smiled despite difficult challenges. "Mary showed me that even in your darkest hour, you can find it within yourself to remain kind. Working in hospice is difficult and very stressful at times. She has made me a better aide as I have found more patience and compassion from her own example."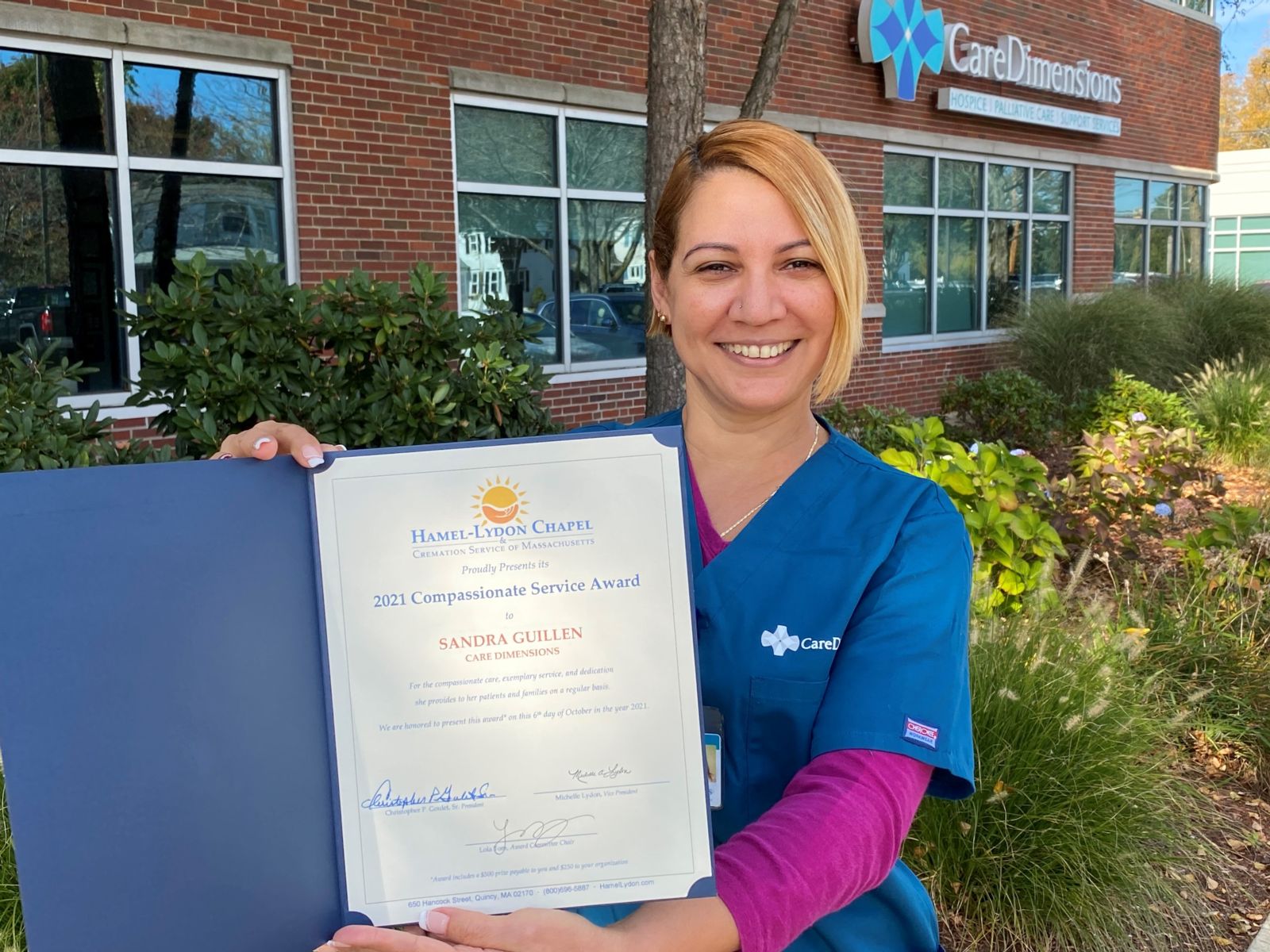 "I used to take care of a very sweet lady named Mary. Every morning she told me how peaceful I made her feel," Sandra Guillen of Beverly said. "The day she passed, she waited for me to hold her hand and closed her eyes knowing all her children were there in the living room. Mary gave me a lesson that you don't need to be in someone's life for a long time to be special to that person, because that's how Mary made me feel."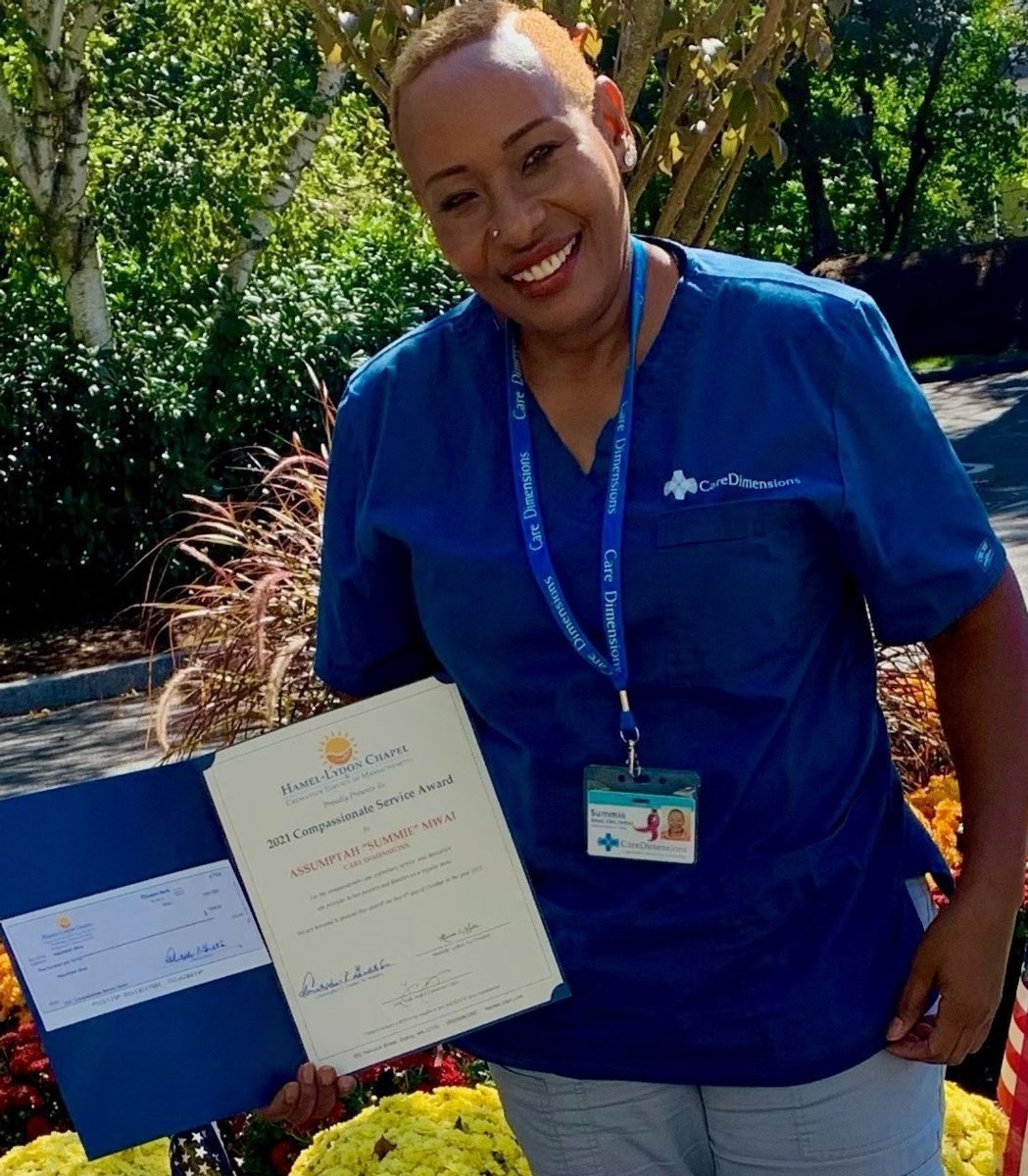 Assumptah Mwai of Lawrence shared the details of developing a good relationship with a patient named Joe who at first had been angry and resentful. "My compassion, empathy, and respect to treat Joe as who he was allowed him to live in dignity and made a very big difference," she wrote. "I found contentment in the fact that I was there and able to be a positive impact in his journey."
"Every day, while our 165 hospice aides are bathing, dressing and providing personal care to patients, they talk, laugh and listen to precious stories of their patients' lives, creating such an intimate connection that is the essence of humanity," said Patricia Ahern, president and CEO of Care Dimensions. "I am immensely proud that four of our hospice aides have been selected for this award celebrating compassionate care, because they are the true embodiment of those words."
"Hamel-Lydon Chapel & Cremation Service of Massachusetts appreciates the special care and dedication that frontline healthcare workers provide for their patients and families," said Christopher P. Goulet Sr., president of Hamel-Lydon Chapel & Cremation Service of Massachusetts. "We are humbled by the opportunity to have read the many examples of compassionate service and care in our communities."
About Care Dimensions
Care Dimensions is the largest hospice and palliative care provider to adults and children in Massachusetts. As a non-profit, community-based leader in advanced illness care, Care Dimensions provides comprehensive hospice, palliative care, grief support in more than 95 communities in Eastern Massachusetts. Care Dimensions was founded in 1978 as Hospice of the North Shore, and cares for patients wherever they live – in their homes, in skilled nursing facilities and assisted living communities, in hospitals, or at our two inpatient hospice facilities, the Care Dimensions Hospice House in Lincoln and the Kaplan Family Hospice House in Danvers. Additionally, Care Dimensions' HomeMD program provides in-home primary care to patients over age 65 in select communities.on the North Shore and Greater Boston who have difficulty leaving home. The Care Dimensions Learning Institute educates more than 7,000 health care professionals and community members each year on advanced illness and end-of-life topics. Please visit www.CareDimensions.org to learn more about Care Dimensions.
About Hamel-Lydon Chapel & Cremation Service of Massachusetts
Hamel-Lydon Chapel & Cremation Service of Massachusetts is a full-service funeral and cremation provider, serving all of Massachusetts. Hamel-Lydon Chapel, the largest cremation provider in eastern Massachusetts, was formed when two of the state's oldest and most respected funeral homes merged to bring personalized, compassionate funeral care and service to the community. Additionally, Hamel-Lydon Chapel offers traditional Chinese and Vietnamese funeral and cremation services. Please visit HamelLydon.com to learn more.

Care Dimensions Hospice House Video Tour
The Care Dimensions Hospice House, located in Lincoln on the Waltham town line, is a gracious and private home-like setting for patients who need hospital-level care for complex pain and symptom management. To learn more, call our Referral Center at 888-287-1255.