News Releases
November 24, 2014

Hospice Aide Honored with Lane-Butler Gift of Compassion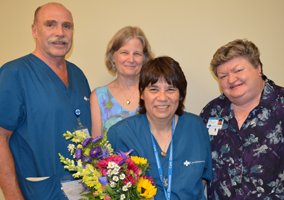 The Lane-Butler Gift of Compassion is an annual gift to a Care Dimensions hospice aide honoring the life of David Lane and the compassion of his hospice aide, John Butler. This year's gift of compassion went to Cindy Berry, a 24-year Care Dimensions veteran hospice aide. Cindy was nominated by her peers for her unwavering compassion with our hospice patients and their families.
Care Dimensions Hospice House Video Tour
The Care Dimensions Hospice House, located in Lincoln on the Waltham town line, is a gracious and private home-like setting for patients who need hospital-level care for complex pain and symptom management. To learn more, call our Referral Center at 888-287-1255.