News Releases
November 24, 2014

Hospice Aide Honored with Lane-Butler Gift of Compassion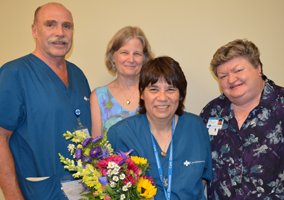 The Lane-Butler Gift of Compassion is an annual gift to a Care Dimensions hospice aide honoring the life of David Lane and the compassion of his hospice aide, John Butler. This year's gift of compassion went to Cindy Berry, a 24-year Care Dimensions veteran hospice aide. Cindy was nominated by her peers for her unwavering compassion with our hospice patients and their families.
Care Dimensions Employees Celebrate Circle of Life Award

In celebration of winning the prestigious national 2015 Circle of Life award honoring innovation in hospice and palliative care, the staff of Care Dimensions took to song "performing" (with vocal assistance from the Mormon Tabernacle Choir) the iconic Circle of Life song. Enjoy!
To view photos from our Circle of Life Award celebration, click here.