News Releases
January 4, 2016

Hospice Employees Recognized at Annual Awards Ceremony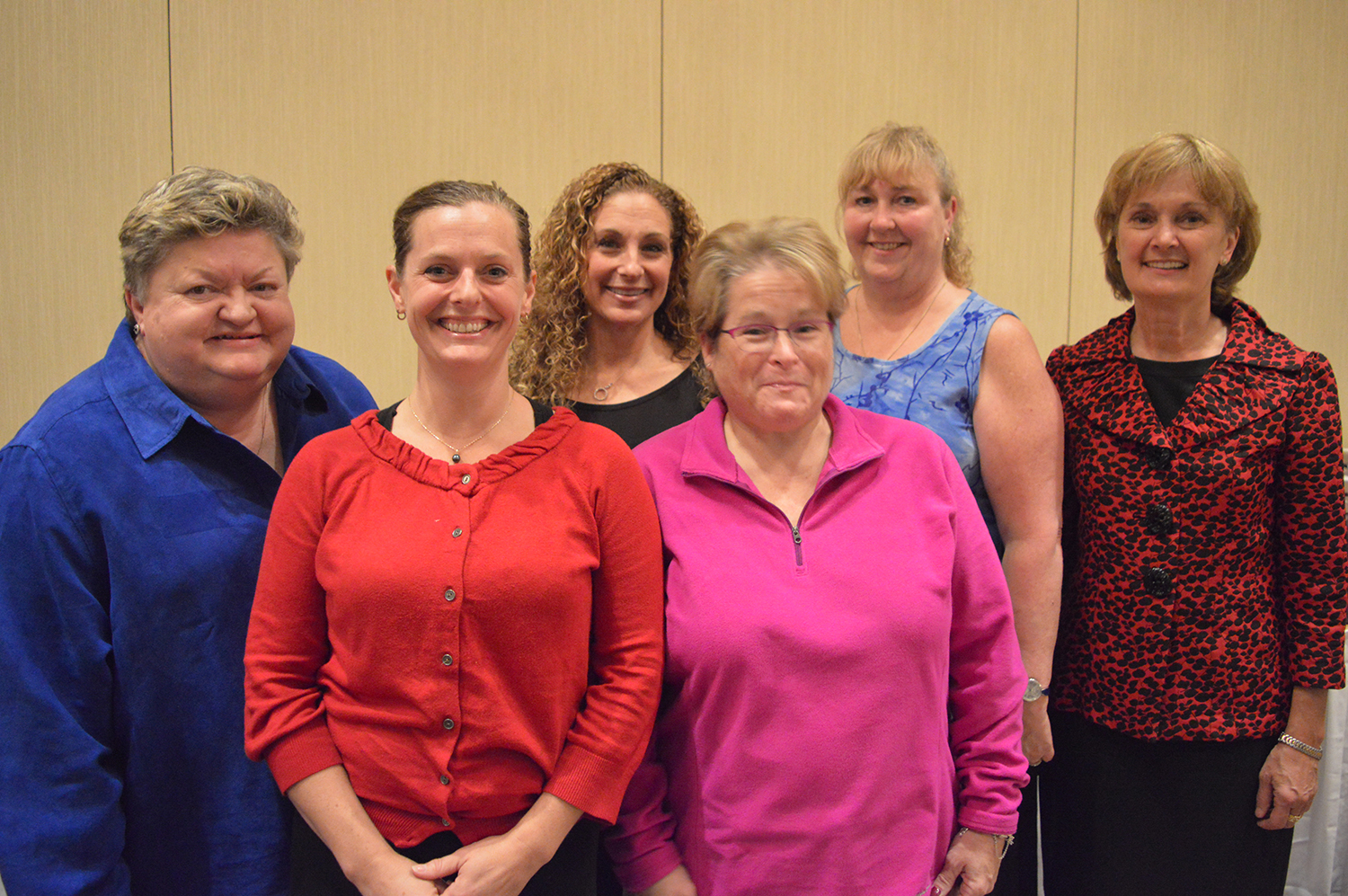 Judy Cranney, COO of Care Dimensions (far left) and Diane Stringer, CEO of Care Dimensions (far right) with the organization's 2015 award recipients (front l-r) Sarah Shepard - Rick Vescovi Award; Caroline Coolen - Lane-Butler Gift of Compassion; and (back l-r) Rene Scully and Jean Brooks - Kathleen Schroot Memorial Award winners.

DANVERS, Mass.—Care Dimensions, formerly Hospice of the North Shore & Greater Boston, recognized several of its employees in December at the nonprofit's annual Staff Appreciation and Awards Dinner held at the Burlington Marriott. Service awards were given to those with three, five, 10, and 20 years of service. In addition, several employees were recognized by their peers for outstanding service and compassionate care.
The 2015 Rick Vescovi Memorial Award recipient is Sarah Shepard, LICSW and Manager of Psycho-Social Support Services. This award is given in memory of Rick Vescovi, a dedicated social worker for Hospice of the North Shore.
The Kathleen Schroot Memorial Award is given to a nurse at Care Dimensions in honor of Kathleen Schroot, the first registered nurse hired at Hospice of the North Shore in 1989. This year there were two recipients: Jean Brooks, LPN of Newton and Rene Scully, RN of Boxford.
The Lane-Butler Gift of Compassion is an annual gift to a Care Dimensions hospice aide honoring the life of David Lane and the compassion of his Care Dimensions Hospice Aide, John Butler. Caroline Coolen of Salisbury is this year's recipient of the Lane-Butler Gift of Compassion.

Care Dimensions is the most comprehensive, diversified and largest provider of high-quality and compassionate care for adults and children with advanced illness in Massachusetts. Care Dimensions' unmatched depth and breadth of service enables individualized care for patients and their loved ones. Services include hospice, palliative care, chronic disease management, grief support and teaching programs. Founded in 1978 as Hospice of the North Shore, Care Dimensions has been caring for patients – in their homes, in long-term care and assisted living communities, in hospitals and at our Kaplan Family Hospice House – throughout all stages of advanced illness. Learn more at www.CareDimensions.org.

Care Dimensions Hospice House Video Tour
The Care Dimensions Hospice House, located in Lincoln on the Waltham town line, is a gracious and private home-like setting for patients who need hospital-level care for complex pain and symptom management. To learn more, call our Referral Center at 888-287-1255.