News Releases
June 2, 2014

Nurse Honored with Kathleen Schroot Award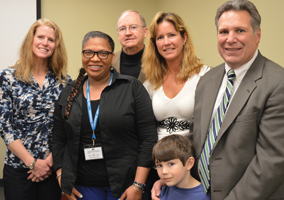 Congratulations to Ayanna Saunders, RN, the 2014 recipient of the Kathleen Schroot Award, Created in memory of the first registered nurse at Hospice of the North Shore, the award honors those who make a special contribution to the profession of hospice nursing. Ayanna has worked as an Evening/Night Nurse since September of 2010, caring for patients and their families int he middle of the night when anything can, and often does, happen. She truly exemplifies the traits that Kathleen was well known for: compassion, grace, commitment to collaboration, and an acceptance of others.
Care Dimensions Employees Celebrate Circle of Life Award

In celebration of winning the prestigious national 2015 Circle of Life award honoring innovation in hospice and palliative care, the staff of Care Dimensions took to song "performing" (with vocal assistance from the Mormon Tabernacle Choir) the iconic Circle of Life song. Enjoy!
To view photos from our Circle of Life Award celebration, click here.