News Releases
November 11, 2014

Peabody Eagle Scout Builds Veterans Memorial for Hospice Patients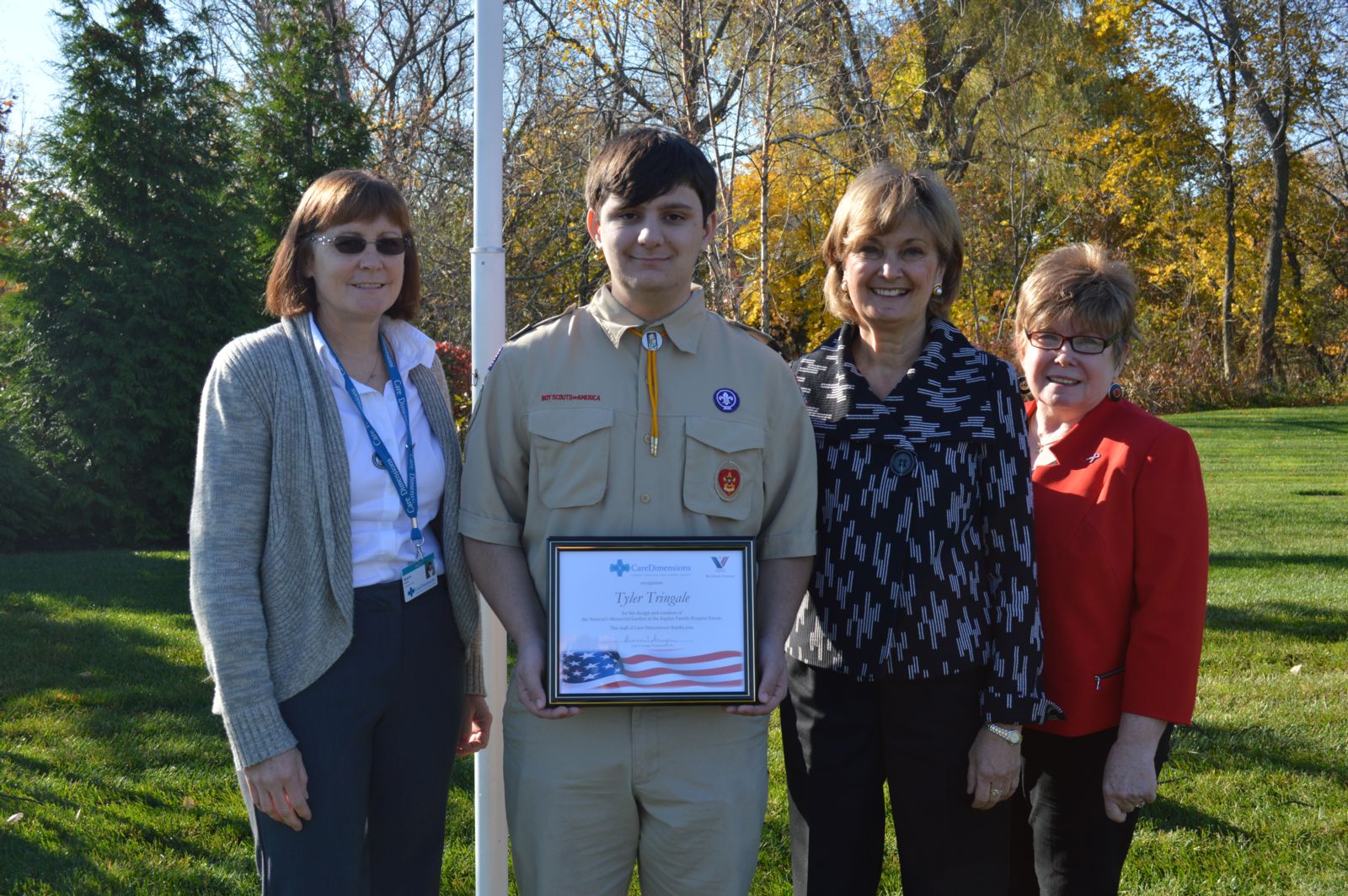 Tyler Tringale, of Peabody's Boy Scout Troop 88, chose to honor Veterans through his Eagle Scout project by designing and constructing a Veterans' Memorial Garden at the Kaplan Family Hospice House in Danvers. The memorial, which features five bronze plaques to represent each branch of the military, a flagpole, perennial flowers, and stepping stones was completed in September. Tyler selected Care Dimensions and the Kaplan House for his Eagle Scout project to honor and remember veterans, and in memory of his grandfather, retired Lynn Police Detective, Frank J. Lowry, Jr., also a veteran, who passed away at the hospice facility. "I wanted to do something to say thank you for the wonderful care my grandfather received at the Kaplan House," said Tringale.

A crowd of over 70 of Tringale's family, friends, Troop 88 leaders and scouts, community members and Yankee Clipper Council leadership attended the dedication ceremony held on Veterans' Day to participate in a flag dedication ceremony and recognize Tyler's efforts. Care Dimensions' President Diane Stringer thanked Tringale for his tremendous efforts to recognize our veterans and shared that Care Dimensions has developed several specialty programs to better care for veterans at end of life, including the organization's Level Four Partner status in the national We Honor Veterans program, the Freedom Rock Presentation Program, the Veteran to Veteran Volunteer program and specialized grief support for Veterans' family members. To learn more, please visit www.CareDimensions.org.

Care Dimensions Employees Celebrate Circle of Life Award

In celebration of winning the prestigious national 2015 Circle of Life award honoring innovation in hospice and palliative care, the staff of Care Dimensions took to song "performing" (with vocal assistance from the Mormon Tabernacle Choir) the iconic Circle of Life song. Enjoy!
To view photos from our Circle of Life Award celebration, click here.