News Releases
December 14, 2020

Ten Employees Recognized at Care Dimensions Annual Employee Awards
For the nonprofit's annual Employee Awards, Care Dimensions recognized 10 employees nominated by their peers for outstanding service and compassionate care in support of Care Dimensions' work and mission in 2020.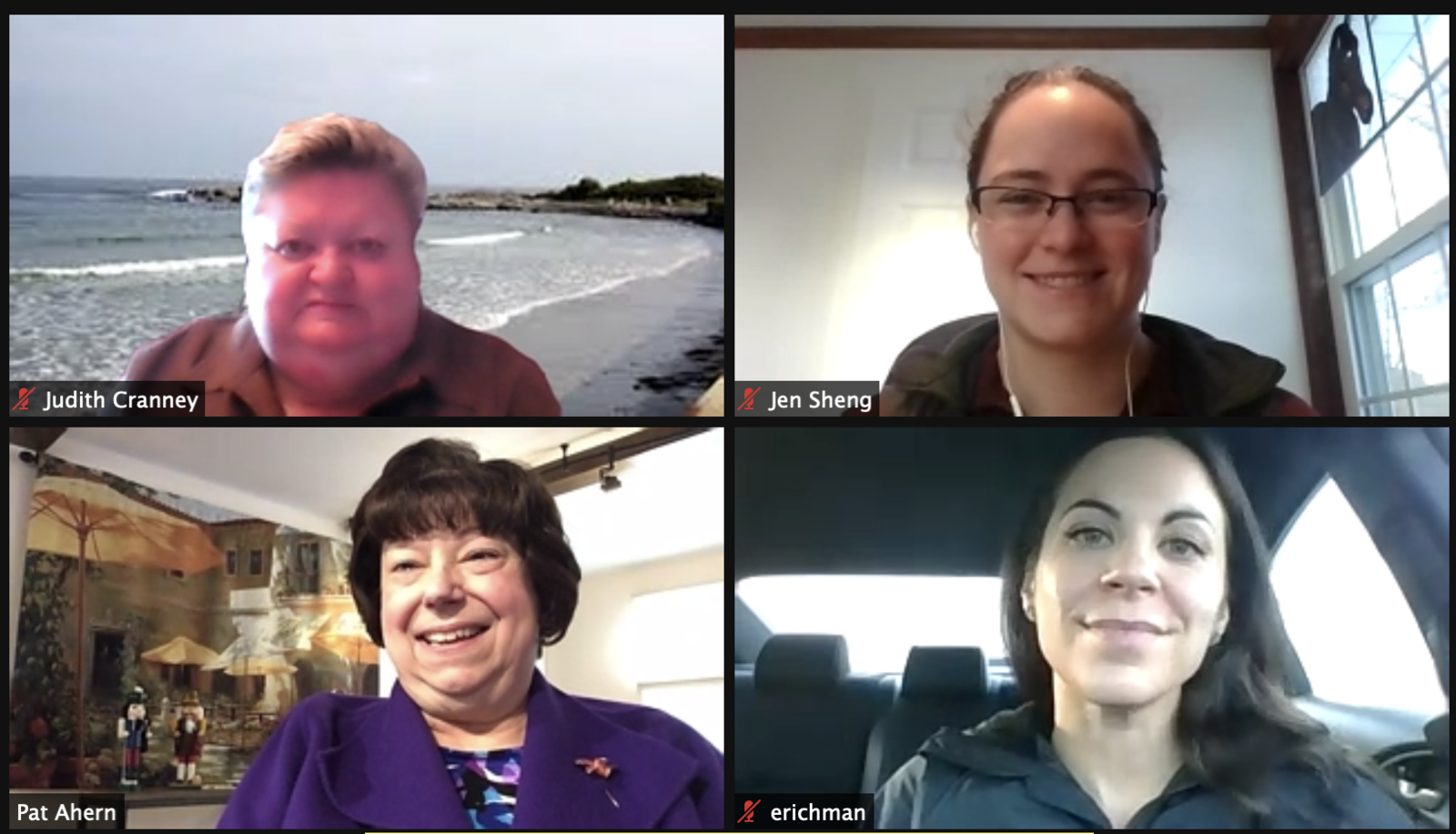 Pictured, clockwise from lower left: President & CEO Patricia Ahern; Vice President & COO Judy Cranney; Social Worker Jennifer Sheng; and Erica Richman, RN case manager. Not pictured: Jennifer Allen and Guilande Alexandre.
The Rick Vescovi Memorial Award is given in memory of Rick Vescovi, a dedicated social worker for Hospice of the North Shore. The 2020 recipients are Priscilla Gagne, an administrative assistant at the Kaplan Family Hospice House in Danvers, and Jennifer Sheng, a social worker serving patients and their families in Greater Boston.
The Kathleen Schroot Memorial Award is given to a nurse at Care Dimensions in honor of Kathleen Schroot, the first registered nurse hired at the organization in 1989. The 2020 recipients are Patricia Burnham, an RN staff nurse at the Kaplan Family Hospice House in Danvers, and Erica Richman, an RN case manager for Greater Boston.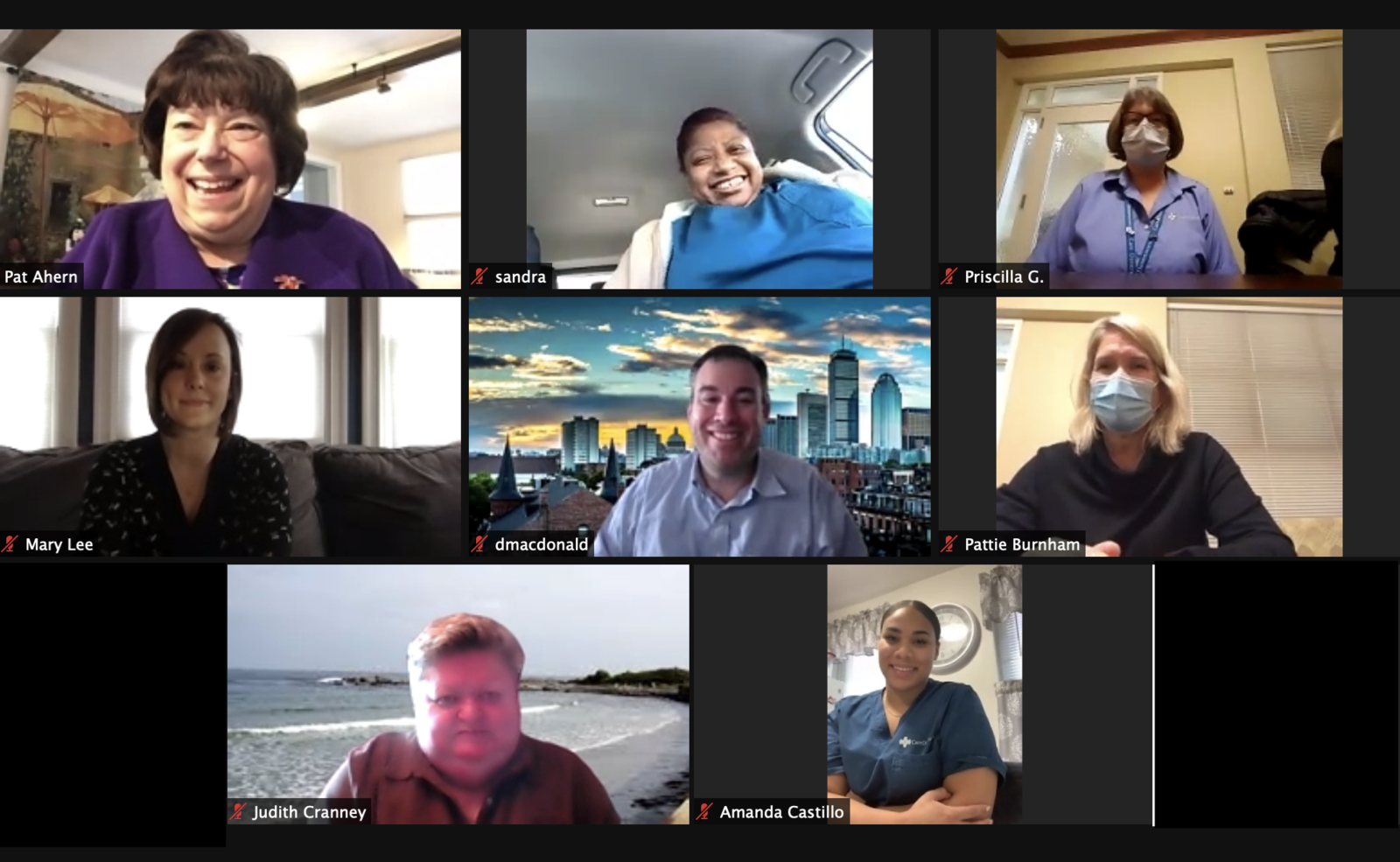 Pictured, top row, left to right: President & CEO Patricia Ahern, Sandra Jean-Baptiste and Priscilla Gagne. Second row: Mary Lee; David Macdonald, MD; Patricia Burnham. Third row: VP & COO Judy Cranney and Amanda Castillo.
The Lane-Butler Gift of Compassion is given to Care Dimensions hospice aides honoring the life of David Lane and the compassion of his Care Dimensions hospice aide, John Butler. The 2020 recipients are Jennifer Allen and Sandra Jean-Baptiste.
The Martha Swindell Dragonfly Award honors the hospice work of Martha Swindell, RN who served as a Care Dimensions nurse and, later, as a hospice aide supervisor. The 2020 recipients are Guilande Alexandre and Amanda Castillo.
The Christina McCann Service Before Self Leadership Award, in honor of Christina McCann, former VP of Philanthropy and member of the Board of Directors, is given to two members of the Care Dimensions leadership team to celebrate exemplary leadership across the organization. The 2020 recipients are Mary Lee, director, continuity of care, and David Macdonald, medical director for the North Shore.
About Care Dimensions
Care Dimensions is the largest hospice and palliative care provider to adults and children in Massachusetts. As a nonprofit, community-based leader in advanced illness care, Care Dimensions provides comprehensive hospice, palliative care, grief support in more than 100 communities in Massachusetts. Founded in 1978 as Hospice of the North Shore, Care Dimensions cares for patients wherever they live: in their homes, in skilled nursing facilities and assisted living communities, in hospitals, or at one of our two inpatient hospice facilities, the Care Dimensions Hospice House in Lincoln and the Kaplan Family Hospice House in Danvers. Additionally, Care Dimensions HomeMD program provides in-home primary care to patients over age 65 in select communities on the North Shore and Greater Boston who have difficulty leaving home. The Care Dimensions Learning Institute educates more than 7,000 health care professionals and community members each year on advanced illness and end-of-life topics.
Please visit www.CareDimensions.org to learn more about Care Dimensions.

Care Dimensions Hospice House Video Tour
The Care Dimensions Hospice House, located in Lincoln on the Waltham town line, is a gracious and private home-like setting for patients who need hospital-level care for complex pain and symptom management. To learn more, call our Referral Center at 888-287-1255.