News Releases
August 2, 2016

Walk for Hospice Party to be held at Honda North in Danvers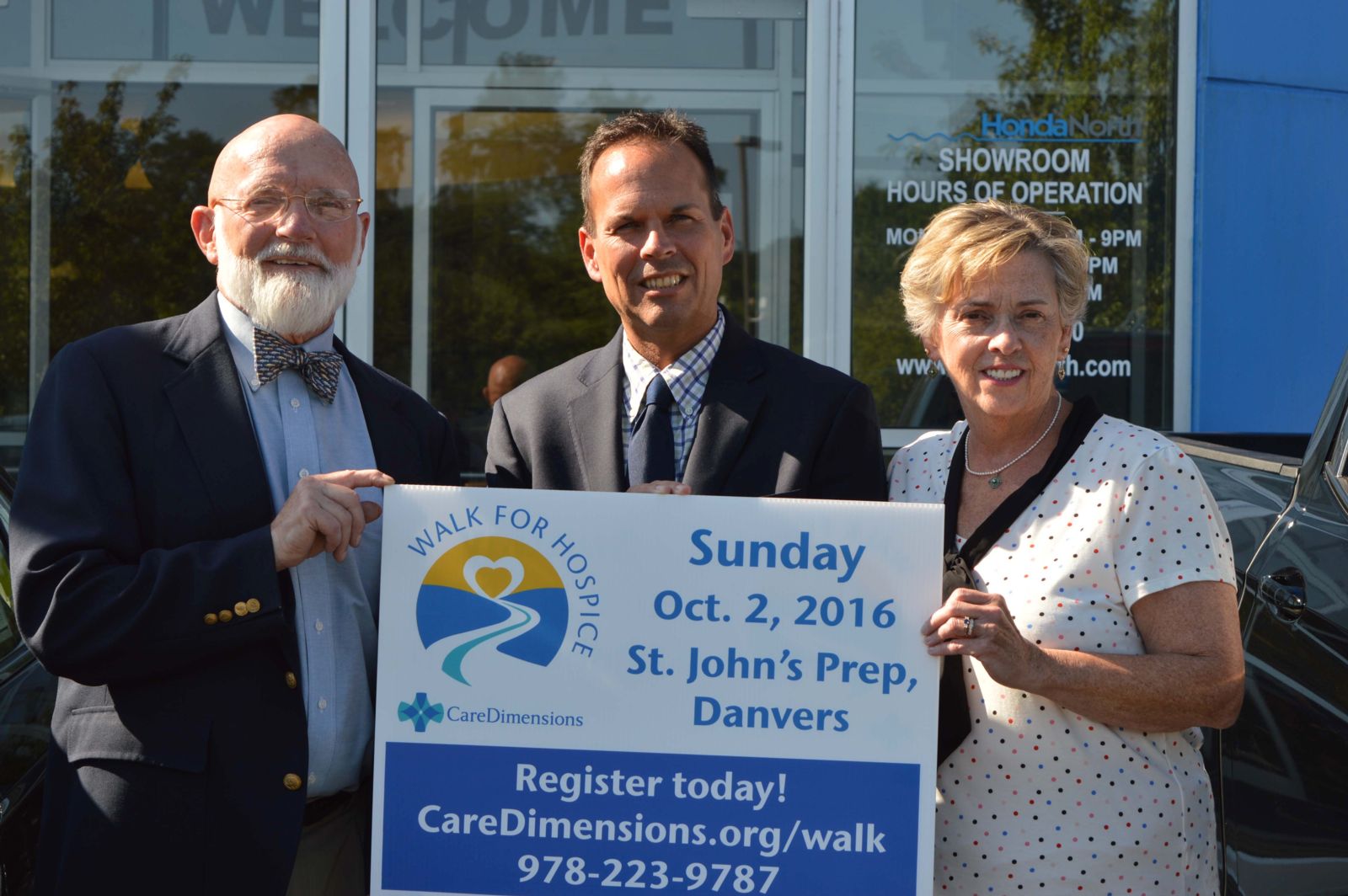 l-r) Marshall Jespersen, Dealer Principal at Honda North and CEO at International Cars LTD Inc. with Walk for Hospice Co-chairs Glenn Boutchie and Judy Curran.
August 2, 2016
- The Walk Committee at Care Dimensions invites the public to join them for a
Nosh and a Nibble
at the annual Walk for Hospice party on Thursday, September 8 at 5:30pm at Honda North, 382 Newbury Street in Danvers. The party will feature an exciting array of signature dishes from favorite North Shore restaurants, an amazing lineup of live and silent auction items, raffles, cocktails and more. Proceeds from this event, and from the Walk for Hospice, scheduled for Sunday, October 2 at St. John's Preparatory School in Danvers, help underwrite essential programming not covered by insurance, including grief counseling, pain management for adults and children through our palliative care programs, and complementary therapies including massage, Reiki, pet, and music therapies. Tickets for the party are $35 per person and can be reserved by visiting
www.CareDimensions.org
or by calling 978-223-9787.
Care Dimensions Employees Celebrate Circle of Life Award

In celebration of winning the prestigious national 2015 Circle of Life award honoring innovation in hospice and palliative care, the staff of Care Dimensions took to song "performing" (with vocal assistance from the Mormon Tabernacle Choir) the iconic Circle of Life song. Enjoy!
To view photos from our Circle of Life Award celebration, click here.