Featured Story
Honoring a Husband and Helping to Ensure End-of-Life Services in MetroWest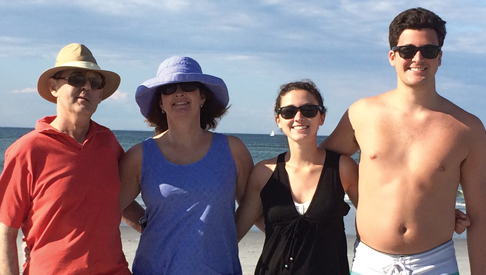 John T. Zaffiro always said you can really judge a person by the way they play golf. Are they patient and honest? His wife, Deb, says that everybody loved playing golf with John because he was not only honest and patient, but funny, too.
Raised in Lexington, John was the youngest of five children. In his adult years, he embraced his role in the family business, a thriving fish processing company along Boston's historic waterfront. "John loved his family's heritage and the history behind their business, which began as a push cart in Haymarket Square," said Deb. "He loved Sunday dinners, making his own pasta and sauce and spending time with family and friends."
"Johnny," as his loved ones called him, was a healthy, vibrant, 54-year-old before he was diagnosed with tonsil cancer in 2013. "From diagnosis until his death, we only had 15 months for everything to sink in," recalls Deb. John's cancer did not respond to numerous treatments and his health took a sharp decline. Deb became his primary caregiver, quitting her job and juggling life with two teenaged children and a terminally ill husband.
After weeks of John's frequent hospital visits, lack of sleep, and increased pain, Deb knew she and John needed help. "It was my neighbor who convinced me to contact Care Dimensions," said Deb. "Knowing that someone from Care Dimensions would come to our house and get Johnny's symptoms under control made all the difference to me. They even arranged for a service to deliver urgent prescriptions in the middle of the night," said Deb. After meeting with the hospice team, Deb recalls feeling less anxious and bolstered by the staff's calm and competent care.
A week before he died, John, Deb and their two children Nick and Natalie spent a day together at the beach. "It was a way for us to just be together as a family doing the things John loved," said Deb.
In August of 2014, John passed away at the Kaplan Family Hospice House in Danvers.
When Deb heard that Care Dimensions was building a second inpatient hospice facility in Lincoln, she knew firsthand about the need it would fill in the MetroWest area. "The Kaplan House provided the best possible care for John at the end of his life and I wanted to ensure that other families had the same opportunity," said Deb. She approached Johnny's fish pier colleagues and friends who ran a charity golf tournament with the idea of supporting the new hospice house. They eagerly agreed. The 2016 John T. Zaffiro Memorial Golf Tournament was held at the Framingham Country Club and raised $20,000. "Our goal was to raise $5,000 for Care Dimensions, but we raised four times that amount because John's friends were so supportive and dedicated," said Deb.
On May 23, 2017, a second memorial tournament was held at the Framingham Country Club in memory of John and a fellow fish pier colleague who passed away in 2016. A portion of the proceeds went to Care Dimensions' new hospice facility, expected to be completed in late 2017. "It's vital to me to honor John's life and acknowledge the important end-of-life services that Care Dimensions provides," said Deb.
While our website will give you a better understanding about hospice care and the services that Care Dimensions provides, no one can tell the true story quite like our patients, families and staff. We encourage you to take a moment and read their stories and watch our videos.
You'll be forever changed as you learn about life's difficult final journey and the amazing patients, caregivers and staff who've embarked on the experience together.
---