Featured Story
18 Years of Support: Gloucester Resident Brought Tree of Lights Celebration to Cape Ann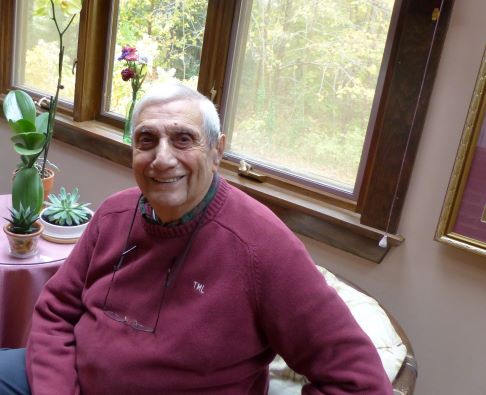 Eighteen years ago, Tom Lattof of Gloucester met a local friend who worked as a hospice nurse for Care Dimensions. Back then, our organization was named Hospice of the North Shore, and that conversation would be the start of a professional, personal and philanthropic relationship.
Tom serves on the Board of Directors of BankGloucester, where he is currently the Board's vice chair. Based on his work as a local business owner and community volunteer, his nurse friend asked Tom if he would help to bring the Care Dimensions Tree of Lights event to Cape Ann.
"I immediately said, 'yes,'" Tom recalls. "BankGloucester is a community bank, so of course we wanted to participate and host this annual event."
The Tree of Lights celebration is an annual holiday-season event in which Care Dimensions invites members of the public to honor a loved one by illuminating a light on the Care Dimensions Tree of Lights in the towns of Danvers, Swampscott and, thanks to Tom, in Gloucester.
In addition to contributing a light for the tree, donors and the general public are invited to attend an annual ceremony to remember and celebrate the lives of those lost.
One year after Tree of Lights came to Gloucester, Tom suggested that the bank plant its own tree at BankGloucester's downtown location at 160 Main Street. Now, 17 years later, the live tree is the centerpiece and gathering point for Gloucester's annual event.
Later, in honor of another local friend, Tom donated to support the Kaplan Family Hospice House in Danvers.
Tom didn't know it then, but his connection and support for Care Dimensions would eventually extend beyond his professional work and BankGloucester's philanthropy.
When his wife Grace was diagnosed with dementia, her doctor referred the family to Care Dimensions' palliative care program for additional support. When Grace's condition grew worse, she transitioned to Care Dimensions' Hospice Program.
"We were married for 67 years, and Grace was my lifeline," says Tom. "Care Dimensions made her end of life comfortable, and I'm grateful for that."
In April 2019, Grace died from complications of her disease.
"Throughout my life, I've tried to give back to the community where I can because I know the value that these organizations bring to my friends and neighbors," says Tom. "Tree of Lights is a wonderful way to support Care Dimensions, and it's an opportunity to let people know that their loved ones are being remembered during the holidays. It's also a great way to bring the community of Gloucester and Cape Ann together at this time of year."

Honor a loved one by making a donation to the Care Dimensions Tree of Lights
While our website will give you a better understanding about hospice care and the services that Care Dimensions provides, no one can tell the true story quite like our patients, families and staff. We encourage you to take a moment and read their stories and watch our videos.
You'll be forever changed as you learn about life's difficult final journey and the amazing patients, caregivers and staff who've embarked on the experience together.
---