Featured Story
Local Philanthropic Family Donates to Support Others Who Need End-of-Life Care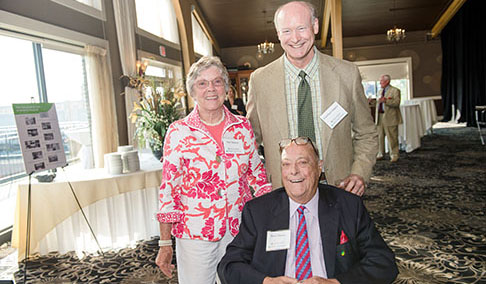 Fred and Sue Thorne of Manchester-by-the-Sea believed in local, community-based healthcare and put their belief into action via their volunteerism, philanthropy and leadership.
Drawing on his vast career in finance, Fred volunteered his expertise for nearly 25 years in a variety of capacities at Beverly and Addison Gilbert hospitals, including as a trustee and as founding chairman of the Northeast Health Foundation. Donors for more than 30 years, the Thornes have also been stalwart supporters of Care Dimensions (originally Hospice of the North Shore).
In 2016, when Fred's quality of life became increasingly compromised by renal failure and cardiac issues, the Thornes had to face the difficult decision to discontinue his dialysis treatments and focus on his comfort for his remaining time.
"Within hours of that decision in his doctor's office, he was admitted to the Kaplan House," recalls Sue. "At the Kaplan House, the staff made Fred's remaining days pain-free and peaceful, and our family felt very supported."
After his death, Sue continued their commitment to support Care Dimensions' work and mission.
"You still have to travel that emotional road of losing someone," says Sue. "But Care Dimensions made it easier for our family."
In addition to her annual contributions to Care Dimensions, Sue is a long-time participant in the Tree of Lights program. She gives in memory of her husband and her friends and in gratitude for having those loved ones in her life. She especially likes how each honoree is informed of the donation and that she's thinking of them at the holidays.
"My contributions enable Care Dimensions to continue to provide care for others," she says. And it is the embodiment of the Thorne family legacy of supporting high quality local healthcare.

Honor a loved one by making a donation to the Care Dimensions Tree of Lights.
While our website will give you a better understanding about hospice care and the services that Care Dimensions provides, no one can tell the true story quite like our patients, families and staff. We encourage you to take a moment and read their stories and watch our videos.
You'll be forever changed as you learn about life's difficult final journey and the amazing patients, caregivers and staff who've embarked on the experience together.
---