BankGloucester Remembers Co-worker While Helping Other Hospice Patients
Posted on November 23, 2018 by Anne Williams
Gloucester
has hosted Care Dimensions' annual
Tree of Lights
ceremony for Cape Ann communities as a way to help local grieving residents get through the holidays, but this year's event is also personal for Bank President Patrick Thorpe and several members of his team.
This past April, Pat's executive assistant, Avis Beaulieu, died at Care Dimensions'
Kaplan Family Hospice House
. She was 55 years old and had developed many friendships with co-workers during her six and a half years with the bank.
"Our team misses Avis dearly," said Pat. "She was an inspiration to us all – personally and professionally."
In her memory, bank staff formed a Care Dimensions Walk for Hospice team and raised $4,500 to support local hospice patients and their families. Now the Tree of Lights tradition that was intended to help grieving members of the community takes on a new meaning for them as they remember Avis.
"We've seen how Care Dimensions' skilled hospice clinicians help patients and families get through a very difficult time," said Pat, who enjoys seeing people return to the Tree of Lights ceremony each year. "We want people to celebrate and remember the good times they had with their loved ones, especially at the holidays."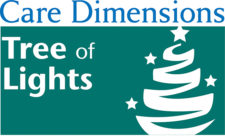 View the Tree of Lights schedule; honor a loved one by illuminating a light on the Care Dimensions Tree of Lights and inscribing his/her name in the Tree of Lights Honor Roll Book.

Make a gift to help Care Dimensions continue to provide compassionate hospice, palliative care, and grief support services to all who need them.
Since 2001, Bank
[ ]
Subscribe
Enter your email address to get
notified when new articles are published.
Search