How a Selfless Stranger Made My Family's Happiness Possible
Posted on April 26, 2021 by Robin Gould
Working for a hospice organization, phrases like, "Make every day count" and "live life to the fullest" are part of our lexicon. These words rang true for me before I came to work for Care Dimensions, and they still do.
Ten years ago this month, my husband, Craig, urgently needed a double lung transplant and a double bypass heart operation. Since his recovery, we never forget that every day is a gift. Someone's selflessness as an organ donor made my family's happiness possible.
A progressive lung disease
In 2006, I was a stay-at-home mom caring for our 10-year-old son, Andrew, and seven-year-old daughter, Emily. Craig was diagnosed with idiopathic pulmonary fibrosis, a progressive disease that causes scar tissue to build up in the lungs. The condition makes the lungs unable to transport oxygen into the bloodstream effectively. Most affected individuals survive three to five years after their diagnosis.
For nearly five years, Craig was able to maintain a highly functioning lifestyle, continued to commute to his job in Cambridge, and exercised. His condition worsened and he became oxygen dependent. He was determined eligible for a double lung transplant and was placed on a waiting list with the United Network for Organ Sharing (UNOS).
We updated our wills and completed durable power of attorney and health care proxy forms. It gave us peace of mind knowing that the proper advance directives were in place. Craig did not want to be kept on life support systems.
Craig's condition went from bad to urgent when he had an acute exacerbation, which hospitalized him with extremely low oxygen levels and moved him up to the top of the transplant list. After Craig spent three days in Massachusetts General Hospital, UNOS located a pair of donated lungs in South Carolina that were a match. The disease had compromised Craig's heart, which necessitated the double bypass.
I remember Andrew and Emily coming to the hospital the night before the surgery and thinking it might be the last time they see their dad. The surgery was our only option but there was hope that it would work. That's all you have at that point.
Craig, who had just turned 46 years old, came through the nine-hour surgery and spent three days in the hospital's intensive care unit. Looking through the glass, I saw him sitting up, breathing room air on his own (he had been on oxygen for eight months). After the ICU stay, he spent two weeks in the hospital before returning home.
A second chance at life
I felt like we had won the lottery. The odds were against us, but everything worked in our favor. Organ donation is the ultimate gift because it gives the recipient a second chance at life. Craig has always said our best day is someone's worst day. We must not forget that while we're beyond happy about the selfless gift he received from a stranger, family and friends of the donor are grieving.
The experience has taught us there are no guarantees in life and you should appreciate the time you have with your loved ones. A year after Craig's surgery, our family vacationed in Hawaii for 10 days. We bought a camper trailer a few years ago and decided to travel with our kids and see different parts of New England. We've stayed in campgrounds at Acadia National Park and Sebago Lake in Maine, Cape Cod, and the White Mountains in New Hampshire. We've had 10 additional years of being together as a family. Craig became a stay-at-home dad and I went back to work. He coached Andrew's football team and saw him graduate high school. In June, he'll attend Emily's high school graduation and we'll celebrate our 24th wedding anniversary.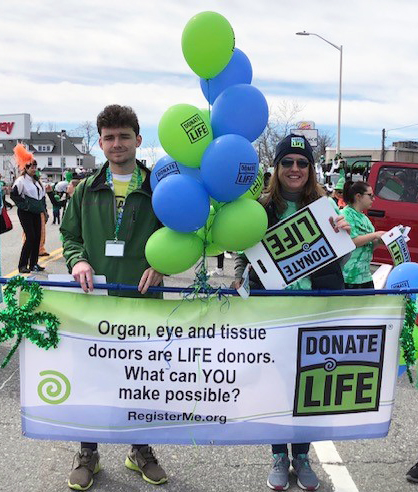 We're so thankful and to give back, we volunteer in support of organ donation efforts. Craig participated in an MGH panel that advised post-transplant patients, and he mentored four people who later received transplants. Last fall, Emily started a chapter of Student Organ Donation Advocates at her high school. The group educates students about organ donation and encourages them to register as organ donors. I raise funds for New England Donor Services. Our family built a Donate Life float in 2012 for our town's Memorial Day parade. Andrew and I also participated in Worcester's St Patrick's Day Parade in support of the Donate Life float.
Please consider registering as an organ donor and make it part of your advance directives/end-of-life wishes. You'll change not just the life of the organ recipient, but also the lives of those who love that person.
About the author
Robin Gould is a Talent Acquisition Business Partner for Care Dimensions. She and her family reside in West Newbury, MA.
[ ]
Subscribe
Enter your email address to get
notified when new articles are published.
Search