Love, Kindness Offer Hope, Healing in Wake of Pittsburgh Massacre
Posted on October 29, 2018 by Patricia Ahern, RN, MBA, FACHE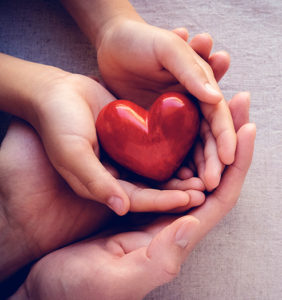 Note: Care Dimensions President and CEO Pat Ahern sent the following message to all Care Dimensions employees following the October 27 shooting at the Tree of Life synagogue in Pittsburgh, PA, that killed 11 people.
Each week, I struggle to believe what more we have heard or witnessed in our country and, indeed, all over the world. The danger is that we will become jaded - perhaps even worse, immune - to the news and the hate and the absence of a national moral compass.
For the families in Pittsburgh, nothing will ever be the same. For anyone in the world who experiences hate crimes and daily disparagement, how can we even describe our worry, respect and love for them? We can pray. We can embrace. We can witness and speak out. We can vote.
Here at Care Dimensions, our hearts are heavy for our Jewish colleagues and the families we serve. We know what we are capable of as a purpose-driven community, so I offer you all hope that makes me bold to say: What if we are the ones the world is waiting for? Because someone is waiting for our healing presence right now and every day. We will be there.
Please keep hold of your hope for a return to a civil society that is resolute and grateful with energy for healing. It is your daily actions of love, kindness, care and promotion of dignity to those so afraid and so vulnerable that inspire us all. We know the world can be better because of you and your purpose.
It will be a hard week. Carry on and stay strong.
[ ]
Subscribe
Enter your email address to get
notified when new articles are published.
Search