Traditional Tactics Pay off for Virtual Walk for Hospice Supporter
Posted on September 3, 2020 by Lisa Conti
While this year's Care Dimensions Walk for Hospice is going virtual due to the COVID-19 pandemic, there's nothing virtual about supporter Dale Lemure's fundraising efforts.
A Care Dimensions hospice aide for 17 years, Dale, of Peabody, MA, taps into her vast network to raise money the old-fashioned way: in person (at a safe distance of course), or on the phone. Year to year, the "Lucky Lemures" consistently is among the top Walk for Hospice fundraising teams, even though Dale is the sole team member who collects donations.
Facing death brings empathy
Most of her donors know Dale from when she cared for their loved one who was receiving hospice. She says she can relate to them because she has faced death multiple times in her personal life.
In 1988, Dale quit her retail job to become the primary caregiver for her husband, who died three years later. She then became a home health aide and worked for various agencies on the North Shore of Massachusetts. In 2003, she survived a battle with cancer that changed her life forever.
"I was lying flat on my back wondering if I was ever going to get out of my hospital bed with cancer," Dale recalls. "As I was recovering, I happened to see a newspaper article about a hospice patient who knew she was going to die but had learned to make every moment count. That really hit home with me."
After she recovered later that year, she was accepted to a hospice aide position with Hospice of the North Shore (now Care Dimensions), which she describes as "not a job, but a calling."
"I feel compassion and empathy with my patients and their families because I know it could have been me," Dale says. "I know what it's like physically, emotionally, and mentally to be in that position. I try to give them one positive day at a time."
Making an impression as caregiver
Dale says her relationships with Walk for Hospice donors go back to how their loved ones were treated while on hospice.
"It's all about the patient. You've got to impress the families and do something exceptional to make them remember you," she says. Some donors offered their thoughts about how Dale impressed them.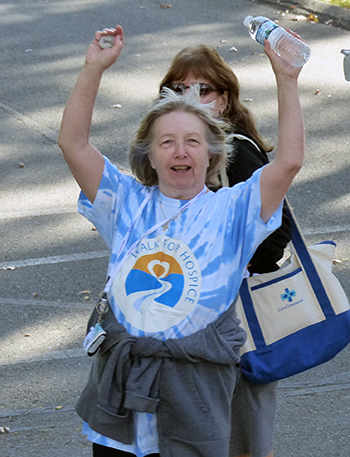 "Dale is a very caring and loving person," says Linda Towey of Lynn, who has done the Walk for Hospice with Dale since her mother died in 2015. "It would brighten my day to see how well Dale took care of my mom. She did so much more than just personal care. She would talk to my mom, who had dementia, and make her laugh. She would even stay late if necessary (with permission from her supervisor)."
"Dale always kidded with my husband and he would kid back," remembers Marge Walker of Salem. "She was so helpful with him and taught me how to care for him at home. She would just light up our world."
"My husband looked forward to Dale's visits. They got along really well," recalls Deb Ventresca of Marblehead, who is donating to Dale's team for the third time. "She would listen to him and allowed him to call the shots. She made my husband laugh and not many people could do that. I'm a nurse and have worked with plenty of health aides over the years. Care Dimensions is lucky to have her."
Joyce Ricciardelli of Peabody says Dale was a comforting presence during the final year of her husband's life. "If she saw I was stressed out, she'd sit down and talk with me. It was so nice to have someone who understood the patient caring part from the caregiver's perspective because of her own experience with her husband. She really helped me over the humps."
Keeping connections, raising funds
Dale says the patient's primary caregiver at home is the most important member of the hospice care team. Her ability to relate to family caregivers helps her maintain connections, which inspire so many to support her Walk for Hospice fundraising.
"Families want to give back and are honored to give back," Dale says. "I'll ring their doorbell or make phone calls about the Walk for Hospice, or sometimes they'll call me or send me a check without me even asking. They're the inspiration for keeping this going."
Last year, Dale's caregiving experience again played prominently in her personal life as she helped her fiancée, Bob Hall, care for his mother, who was receiving hospice from Care Dimensions. Dale helped on her personal time for many months and assisted the nurses while Bob's mother was actively dying. Bob and his family are grateful for the care their mother received and are repeat donors to the Walk for Hospice.
And what about the Walk team's name, Lucky Lemures?
"I've been very lucky," says Dale, 67. Not only did she survive cancer, but so did one of her sons. Another son recovered after being hit by a car.
"I never dreamed I'd be doing what I'm doing at my age and during a pandemic. I've come through all these things to be here at this time with my knowledge – to face death itself. Hospice is the top priority for me, and it's needed now more than any time in my career."
Learn more about the Care Dimensions Walk for Hospice.
About the author
Lisa Conti is Senior Marketing Communications Specialist for Care Dimensions and manages its Voices of Care blog.
[ ]
Subscribe
Enter your email address to get
notified when new articles are published.
Search