Walk for Hospice Team Honors Danvers Man's Love of Giving Back
Posted on September 17, 2019 by Lisa Conti
Frank Cobuzzi of Danvers believed in paying it forward. Whether he was coaching youth soccer, leading a Boy Scout troop, or lending a hand to seniors or fellow parishioners, he found joy in giving back.
A Danvers native, Frank learned about strong community ties through his family's businesses, including Rocco's Pizza, Family Variety and Premier Deli, and he continued that tradition as owner of Rocky Woods Landscaping and Property Management.
For nine consecutive years, Frank also participated in the Care Dimensions Walk for Hospice with his wife, Trish, and their two children, Michael (16) and Christina (14). The last time he did so was in 2017, the same year in which his father died while receiving hospice from Care Dimensions. In 2018, he was too weak to join the Walk due to side effects from chemotherapy for cancer.
Frank died at home while on hospice with Care Dimensions in March 2019. He was 55 years old. About 40 of his family members and friends are honoring his memory by giving back to the community through the Walk for Hospice and their Walk team, "Frank's Fans."
Recalling the benefits of hospice at home
Frank's wife Trish has supported hospice since her mother had the service 20 years ago. She recalled how hospice also helped her stepfather, who was 15 years older than her mother and not in good health.
"They had retired to Florida and none of their children lived nearby, so having hospice come into their home was a big help," said Trish. "When it was offered to Frank, the help from Care Dimensions reaffirmed what I already knew about hospice."
During the winter of 2019, Frank started Care Dimensions' palliative care service to help manage pain while he continued to receive chemotherapy. Trish, who works at home as a hairstylist, was Frank's primary caregiver and received guidance from a Care Dimensions nurse practitioner on how to manage Frank's pain. In March, after the last attempt to ward off the cancer failed, Trish asked Frank's oncologist if her husband could go on hospice. "I couldn't manage the symptoms myself," said Trish. "The cancer was in Frank's bones and he was in a lot of pain."
"I knew hospice was available to help Frank because our dad, Rocco, had hospice with Care Dimensions for pain management before he died two years ago," added Lena Cobuzzi Winston, Frank's sister and Walk for Hospice team co-captain.
"Within a day of calling Care Dimensions to have Frank put on hospice, he had everything he needed, including a hospital bed with an air mattress, which was a big help," said Trish. "Dr. Nancy Otovic, who is one of my clients, saw Frank and was very helpful. She already knew him and his history because I had spoken with her about his illness. She answered family members' questions with great compassion and even helped an older relative – who was hesitant about hospice – come to understand how hospice could help Frank and our family."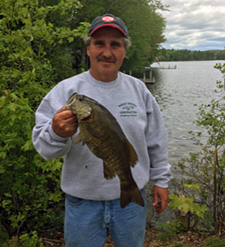 Frank received hospice at home for about two weeks. "He never felt pitied or like a victim," said Trish. "He was surrounded by family and friends all the time because we were able to keep him at home. The hospice team was equally focused on the family and Frank. 'We're here for you,' they told us.
"Our hospice aide, Carmen, knew just how to wash Frank and make him comfortable," Trish continued. "He loved the way she took care of him."
"My two other brothers visited Frank often at home," Lena recalled. "He was close to a lot of people and many of them visited during his final two weeks. I know that meant a lot to him."
Compassion and support from Care Dimensions
Trish said Care Dimensions' compassion and support has helped her tremendously. "The follow-up and support they offered was great. I received a call and mailings. You don't feel like they forget about you after your loved one dies."
Trish recently began attending a Care Dimensions bereavement support group for people under 55 years old who have lost their spouse. She says hospice and the support it offers are invaluable to those who need the services.
"I'm walking to support Care Dimensions so that any family going through a loved one's serious illness can get whatever they need without accumulating bills," said Trish. "I want families – and myself, when the time comes – to enjoy the benefits of hospice without the worry of financial stress."
Learn more about the Care Dimensions Walk for Hospice
About the author
Lisa Conti is Senior Marketing Communications Specialist for Care Dimensions and manages its Voices of Care blog.
[ ]
Subscribe
Enter your email address to get
notified when new articles are published.
Search