Featured Story
Hospice Helps Couple Enjoy Their Final Weeks Together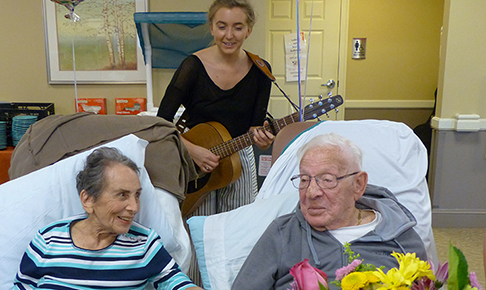 In the spring of 2017, health problems caught up with Rose and David Rosenthal. Rose, 93, was beginning to decline from dementia, while David, 98, was weakened from chronic heart disease and other serious conditions. Their doctors suggested they consider hospice care. In reviewing their options with their daughter, Francine, they chose Care Dimensions.
Creating special memories
Sensing that Rose, David, and their entire family needed a pick-me-up, Care Dimensions suggested holding a celebration for the couple's 68th wedding anniversary. Their hospice team worked together to create a special memory for them by purchasing a cake, hanging decorations, and having a music therapist play the couple's favorite songs. Family and friends attended as well, singing along and celebrating with the happy couple.
This is just one small example of how our caring staff goes above and beyond to help our patients live each day to the fullest so they can participate in life's simple and special events.
Bringing comfort at the most difficult time
Although David passed away a little over a month later, the fond memories from the anniversary party are still a comfort to Rose and Francine.
"The nurse, social worker and hospice aide were amazing to my parents. Seeing the way they engage my mother and cared for my father has given me great comfort. They've gone above and beyond for my family, and for this I am truly thankful," says Francine.
Help create more moments like this
Across Eastern Massachusetts, more than 800 people a day depend on the compassionate expertise that Care Dimensions provides to hospice patients, regardless of their ability to pay. Your support helps give comfort to patients like Rose and David, and assurances to their families. Please make a tax-deductible gift today.
While our website will give you a better understanding about hospice care and the services that Care Dimensions provides, no one can tell the true story quite like our patients, families and staff. We encourage you to take a moment and read their stories and watch our videos.
You'll be forever changed as you learn about life's difficult final journey and the amazing patients, caregivers and staff who've embarked on the experience together.
---