Featured Story
Collaboration is Cornerstone to Increasing Access to Hospice Care for Individuals with Intellectual and Developmental Disabilities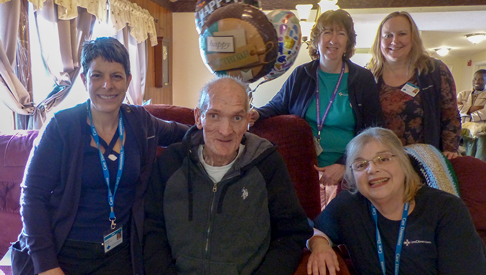 Elmer "Skip" Marshall, 74, of Lynnfield, lit up and grinned from ear to ear at the sight of a candlecovered cake and balloons as his hospice team gathered together to surprise him with a birthday celebration. For a man who reveled in one-on-one interactions and attention, this display of genuine affection was exactly the birthday gift he hoped for and he loved every minute.

"Skip hasn't had an easy life," said Care Dimensions Social Worker Karen Rookwood. He was born with developmental and intellectual disabilities, and with many health issues he's been in and out of hospitals. "But, despite his speech impairment that can sometimes make it hard for him to express himself, he has a way of communicating straight from the heart. He's so open and appreciative of the people he loves."
As a client receiving services from the Massachusetts Department of Developmental Services, Skip lives in a group home with four other residents and is cared for by staff from NuPath. "Skip loves his home, and the staff loves him," said Karen.

Over time, his chronic obstructive pulmonary disease (COPD) had worsened and he was having recurrent bouts of pneumonia, resulting in several hospitalizations. Knowing how hard the hospitalizations were on Skip and his fervent desire to be at home, his physician suggested Skip consider hospice care at home. His sister Marianne, who is a nurse in Maine and is very involved with Skip's care despite the distance, helped Skip understand his choices.

"Skip chose hospice because, even knowing that hospitalization is always a possibility because he has so many complicated needs, he appreciated that the likelihood would be decreased because hospice support is available 24/7," said Karen.

"It helps me when I'm sick in the middle of the night. I know a nurse will come see me," said Skip.

To provide the best care for Skip, Care Dimensions collaborates with the NuPath group home staff and its full-time nurse, Coralee Beckingham, RN, who coordinates all the residents' medical care. "The relationship and care coordination works so well because we know Skip and can advocate for him," said Coralee. "The Care Dimensions team takes that input and comes up with a plan to meet his needs. The hospice team respects Skip and his wishes. They make sure that Skip knows exactly what's going on and why we're doing things."

"The NuPath staff is wonderful at supporting and caring for someone with a disability, but end-of-life care is new territory for them," explained Karen. "They turn to Care Dimensions to provide expertise, education and medications to keep him at home and to live out the remainder of his days the way he really wants to."

"There's a lot of teaching with the staff about the specifics of the medical care Skip needs, but also his emotional and spiritual needs. Skip speaks a lot about how he envisions his death, which can be uncomfortable for people who are not steeped in hospice," explained Karen. "It's been helpful for them to see and hear the conversations the Care Dimensions team has with him. Over time, the group home staff has gotten more comfortable and it's made it OK for them to talk about it."

Skip has fully embraced hospice care and is open to all that Care Dimensions can offer. In addition to this clinical team of two nurses, chaplain, social worker and hospice aide, he also enjoys music therapy, pet therapy, massage, and visits from his trained volunteer.

"Skip really opens up through his music therapy visits with Lisa Kynvi," explained Karen. "Skip picks songs that are meaningful to him – his favorite is Galveston by Glen Campbell – and they talk about what the song means, and share stories and memories. Skip loves to talk about his dream of going to Nashville because he's such a country music fan. He probably knows he will never go there, but through the music and talking about it, he can dive deep into his dream."

"Skip has wonderful support from his sister, who adores him and is a fierce advocate for him, but she can't be here with him all the time. I hope it's a real comfort to her to know that he has the support of his hospice team and the staff at the group home," explained Karen.

As Skip enjoyed his birthday cake and being the center of attention, Karen concluded, "We really wanted to do something special for Skip's birthday. We wanted to help him focus on his life and being alive, and appreciate that every day is still very valuable and he's wonderful.
Program Honored for Innovation
Care Dimensions' hospice program for adults with intellectual and developmental disabilities was honored in 2018 with a national award from Boston University's Institute for Health System Innovation & Policy for its "demonstrated success in implementing an innovative, compassionate and sustainable serious illness management care program for an underserved population."
While our website will give you a better understanding about hospice care and the services that Care Dimensions provides, no one can tell the true story quite like our patients, families and staff. We encourage you to take a moment and read their stories and watch our videos.
You'll be forever changed as you learn about life's difficult final journey and the amazing patients, caregivers and staff who've embarked on the experience together.
---