Featured Story
Son, Mom Pay it Forward at Grief Camp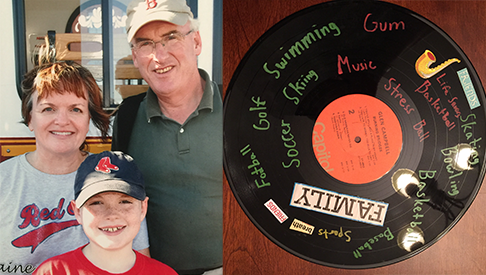 Editor's Note: Each summer Care Dimensions organizes Camp Stepping Stones, a family retreat for children and adults who have experienced the death of someone close to them. The one-day camp offers children traditional camp experiences with hands-on activities to help them express their feelings and remember loved ones. Adults have the opportunity to relax and attend workshops on how to help their children manage their grief. The entire family has fun together while learning valuable coping skills and bonding with other families who understand what they are going through.

Colin ~ A Camper's View

I was only nine years old when my Dad died suddenly. It was terrible. I loved my Dad very much and I miss him every day. My Mom suggested that we both go to Camp Stepping Stones but I wasn't sure what to expect. I was nervous about attending and I thought it would probably be sad thinking so much about my Dad.
When I got to Camp the first things I noticed were lots of kids and families, a basketball court, and arts and crafts tables. The volunteers were very nice and they helped us get into different groups, depending on our age. In my group, we played football and basketball, and learned yoga. To remember our loved ones, we wrote in journals and created art projects such as garden stepping stones and memory boxes. We even got to pet miniature horses, which was very relaxing. What I liked the most were the sports, especially playing football with counselor Mary. She made it a lot of fun and I felt like a normal kid.
At Camp, I met kids who were in the same shoes as me because they had lost someone they loved. We didn't talk a lot about our family members who had passed away, but it was comforting knowing that we each had similar experiences. It was also good to know that you didn't have to talk about your loved one if you didn't want to. I made some nice friends that first year at Camp Stepping Stones.
After three years of attending Camp Stepping Stones as a camper, I decided to pay it forward and volunteer this year. I'm hoping to make other kids feel better and be a positive role model for kids who need it. I know how important it is to be a friendly face for those who are feeling sad and to show that even though I've experienced a devastating loss, I'm doing OK. I learned so much about myself at Camp: how to de-stress when I'm feeling sad or anxious; how to relax and breathe deeply; how writing about my feelings in a journal can help. I learned that grief is a process and that there is always a light at the end of the tunnel.
Camp Stepping Stones is a fun, helpful and friendly place with great people and volunteers. I highly recommend it for any child or teen who has lost a loved one. It will help you start to heal, one step at a time.

Julie ~ A Parent's View

Like Colin, I wasn't quite sure what to expect at Camp Stepping Stones. After the death of my husband, I knew that we needed to honor his memory and learn coping strategies. Camp Stepping Stones seemed like the right mix of commemorative activities and support for both of us.
What struck me initially were the counselors and volunteers. They were all so kind, compassionate, and non-judgmental. They were willing to assist us in any way possible. While Colin and his peers were off beginning their day, the adults gathered to attend parenting sessions, learn more about coping with grief, receive Reiki or massage, and participate in commemorative art projects. Throughout the day, I found hope in listening to the journeys of folks who were further along than me and were surviving such difficult circumstances and obstacles. There were common threads to all our stories, yet each was unique in its own way.
We all acknowledged the realities and difficulties that dealing with loss has had on ourselves and our children, but agreed that we gained strength from others who are experiencing profound loss, and surviving, as well. At Camp, adults were able to connect in meaningful ways by sharing stories, laughs, and helpful strategies in a safe, judgment-free environment. I've found continued support from the people I've met at Camp over the years.
Camp Stepping Stones also reminded me about the importance of taking time to care for myself, especially when grieving. I found the Reiki and massage so relaxing. The entire day gave me a chance to regroup and revitalize so that I could have more energy to continue on my journey of healing.
For me, the best part of Camp was the final hour when families came together for the closing ceremony. It was a time to honor our loved ones and view a slide show of the day's events. Seeing Colin and the other children's faces, full of smiles and having fun, was priceless. Of course, the day was bittersweet, too, thinking about the losses we had all experienced. But, the supportive staff and volunteers, sense of community, and relevant activities helped to reinforce that we were not alone.
Camp Stepping Stones provided a lifeline to me and my son at a very difficult time. What we learned at Camp has proved to be invaluable to both of us, especially on the tough days. We look forward to volunteering at Camp this summer! It's a very special place for helping and healing.

Visit the Camp Stepping Stones page for more information.
While our website will give you a better understanding about hospice care and the services that Care Dimensions provides, no one can tell the true story quite like our patients, families and staff. We encourage you to take a moment and read their stories and watch our videos.
You'll be forever changed as you learn about life's difficult final journey and the amazing patients, caregivers and staff who've embarked on the experience together.
---