Featured Story
Hospice Helps Couple Make Memories - One Visit at a Time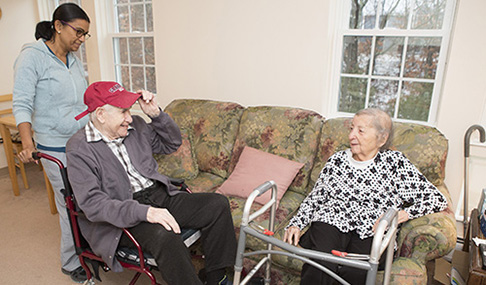 Sometimes it's the little things in life that make all the difference.
For 95-year-old Aaron Wiseman, getting to spend some time each weekday with Roslyn, his wife of 70 years, means a lot.
Aaron lives in the long-term care section of the Brudnick Center in Peabody, MA, where he has been receiving hospice from Care Dimensions since June 2018. Roslyn lives next door at Kaplan Estates, in an assisted living apartment she shared briefly with Aaron until he required a higher level of care for his diabetes and other conditions.
Their daughter, Leslie, often would take Aaron from the Brudnick Center to visit Roslyn at Kaplan Estates or Roslyn to visit Aaron at his residence. At other times, their social worker from Kaplan and Brudnick facilitated the couple's meetings. Their visitation routine became easier when Aaron began hospice care, which in addition to a nurse, social worker, chaplain, and music therapist, includes a hospice aide who visits each weekday.
Aide Kenia Rodriguez sees Aaron after lunch and makes sure he's properly groomed. She then escorts him on a five-minute journey in elevators and through hallways to Roslyn's apartment in the adjacent building. Roslyn opens the door to see Aaron's broad smile and twinkling eyes. They kiss hello and Aaron presents a pear or banana as a gift. For the next 30-40 minutes, they enjoy each other's company, listen to music from the 1940s and 50s, and reminisce about their 70 years of marriage.
"It's wonderful to know I'm going to see him," said Roslyn. "It gives me something to look forward to. If it weren't for Kenia, we wouldn't see each other every weekday."
"Every Care Dimensions person who has helped me and my family has been lovely," added Aaron.
Meant for each other
"You could say their love story began with fireworks," said Leslie. "They met on a blind date on July 4, 1948."
Roslyn was 21 and a manager at an insurance company. Aaron was 24 and worked for General Electric in Lynn. They took to each other right away and married on September 10, 1949. In 1953, they moved from Lynn to Peabody, where Roslyn took care of their home and two children. Aaron worked in various capacities at General Electric his entire career.
They enjoyed life in their Peabody home, but in 2016 when Aaron was 92, they decided it was time for assisted living. Just a few weeks after moving into Kaplan Estates, Aaron fell and required rehabilitation at the Brudnick Center. Unfortunately, his health wouldn't rebound enough to live with his beloved wife again. He later developed cancer, and chose hospice with Care Dimensions.
Aaron's hospice nurse, Bettyann Finnegan, observed that his mood improves greatly after he visits with Roslyn. Leslie agrees, adding that by facilitating her parents' time together, Bettyann and Kenia know the importance of social connection. "They truly care and want to help," said Leslie. "And it's made a great difference for my dad and my mom."
Sharing 70 years of memories and love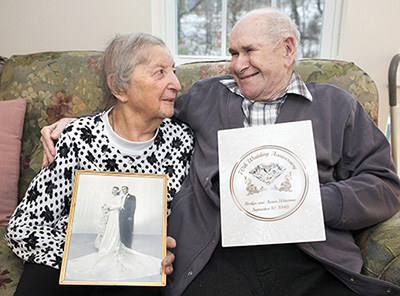 In September of last year, Aaron and Roslyn's family threw a 70th anniversary party for them at Kaplan Estates. It was done in an "open-house" format, and more than 50 people stopped by to wish the couple well, including health care providers who have helped Aaron or Roslyn.
During one of Aaron's recent visits with Roslyn, the couple displayed a framed sign that marks their 70-year milestone:
840 months of happiness
3,652 weeks of laughter
25,568 days of understanding
613,632 hours of love
2 wonderful children
2 terrific grandchildren
2 precious great-grandchildren
A lifetime of wonderful memories
1 amazing couple
After more than 70 years, Aaron and Roslyn are happy to continue building on this list and making memories together.
While our website will give you a better understanding about hospice care and the services that Care Dimensions provides, no one can tell the true story quite like our patients, families and staff. We encourage you to take a moment and read their stories and watch our videos.
You'll be forever changed as you learn about life's difficult final journey and the amazing patients, caregivers and staff who've embarked on the experience together.
---