Featured Story
HomeMD Program Offers In-Home Primary Care for Patients and Families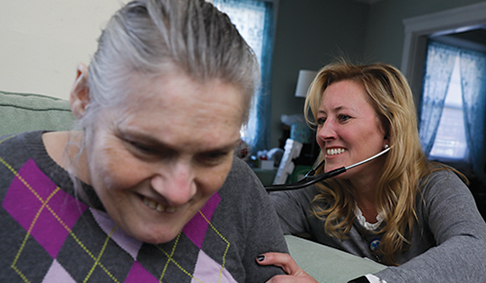 Sisters Kathy and Patty Mooney of Salem have spent a lot of time in doctors' offices and hospitals due to chronic conditions.
Kathy, 65, has cerebral palsy and has had multiple orthopedic surgeries. She has difficulty moving even short distances with her crutches. Patty, 67, is diabetic and has experienced dizziness and skin problems due to changes in her blood sugar levels. Getting to medical appointments can be a challenge for them both.
Thanks to regular primary care visits from our new HomeMD team, the sisters can get much of the care they need at home. HomeMD offers personalized in-home primary care to patients 65 years and older in 43 communities north of Boston who have trouble leaving their homes due to memory loss, physical issues, or the challenges of managing chronic conditions such as diabetes, COPD, stroke or heart failure. Patients do not have to be receiving palliative care or hospice services from Care Dimensions to become a patient of the HomeMD primary care program.
HomeMD, which launched in October 2019, is led by long-time North Shore physician Mark Messenger, MD, and nurse practitioners Kristin Chouinard, NP, and Patricia McCarthy, NP, and is available to patients living in private homes, assisted living facilities, group homes and rest homes.
"Neither Kathy nor Patty could live alone. They rely on each other every day," said Kristin, who provides primary care visits for the sisters at least once a month. "It's important that they stay together, which they are able to do with HomeMD and other supportive resources."
"Having Kristin come to care for us at home has been a godsend for both my sister and me," said Kathy. "It's made things a lot easier."
Kristin noted the HomeMD program brings continuity of care for the sisters' complex conditions. "We can see if anything has changed from visit to visit, and they always can call if anything comes up in between visits."
HomeMD offers the same primary care medical services provided in a traditional office-based physician practice including: routine primary care visits, acute illness visits, visits after being hospitalized or in a skilled nursing facility, disease management, dementia assessments, vaccinations/flu shots, laboratory services including blood draws, and X-rays.
For Kathy and Patty, a regular visit includes checks on vital signs, overall wellness, medication compliance and functional status. Kristin's visits help qualify Kathy for physical therapy at home and provide Patty with closer monitoring of her diabetes, including skin surveillance.
"Before Kristin started coming to our house, I had to go to the doctor's all the time," said Patty. "I would get dizzy when my blood sugar levels were off. Now I'm pretty stable. I'm very glad to have Kristin who comes right to my house to see me."
"It's good to know somebody's looking after us," added Kathy. "It's reassuring and comforting."
While our website will give you a better understanding about hospice care and the services that Care Dimensions provides, no one can tell the true story quite like our patients, families and staff. We encourage you to take a moment and read their stories and watch our videos.
You'll be forever changed as you learn about life's difficult final journey and the amazing patients, caregivers and staff who've embarked on the experience together.
---