Featured Story
Care Dimensions Helps Young Father Meet End-of-Life Goals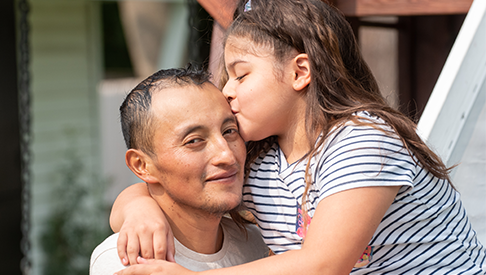 Audias Perez Escobar, 32, moved from Armenea, Guatemala, to the Boston area in 2005, striving to make a better life for himself in America. During the next 14 years, he worked hard in the construction trade, met and married his wife, Maureen, and had a beautiful daughter Amaya, now 10.
He was living the American dream, but it wasn't without hardship and pain. His wife died in 2016 from ongoing health issues and he struggled to raise Amaya with the help of a large extended family. Then, in February 2020, he was diagnosed with cardiomyopathy and congestive heart failure, which made it physically challenging to work, so he moved in with his cousin, Mario Arrivillaga, to help care for Amaya.
When COVID-19 surged through Massachusetts this spring, Audias contracted it and, because of his heart disease and already weakened condition, he was admitted to Massachusetts General Hospital. As he was recovering, he was transferred to the temporary Boston Hope Medical Center, set up by the state to manage overflow COVID patients from area hospitals. While there, Audias met MGH palliative care specialist Mark Stoltenberg, MD, who also works part-time with Care Dimensions.
Fluent in Spanish, Dr. Stoltenberg connected with Audias and began talking with him about his advanced heart disease and plans for end of life. Audias confided that he was anxious to return to Guatemala to be with his parents, brother and sisters, but his biggest concern was for Amaya. He wanted to give her the best future possible, and decided she needed to stay in the U.S.
"Amaya watched her mother's health decline and die; I don't want her to see that for me," Audias said.
After Mario and his family agreed to adopt Amaya, they continued to work with the Massachusetts Department of Children and Families (DCF), who had been involved since Audias's diagnosis, to make it happen.
Meanwhile, though recovered from COVID-19, Audias was very weak and symptoms of his heart disease were increasing. Dr. Stoltenberg talked to him about hospice care and how Care Dimensions could help him. Audias agreed and was admitted to home hospice in June. The hospice team worked with his MGH care team to manage his medications and symptoms with the goal of getting him strong enough to travel back to Guatemala.
In July, as Audias' symptoms worsened, his team recommended he go to Care Dimensions' Kaplan Family Hospice House to receive hospital-level care to manage his medications and get his symptoms under control.
"I was feeling very dizzy, so Care Dimensions changed my medicine and I feel better now," Audias said.
As the team waited for Guatemala to reopen to receiving travelers from the U.S., Audias and his Care Dimensions social worker, Jenne Robertson, MSW, LCSW, set to expedite Amaya's adoption.
"Collaborating with the DCF case worker, I submitted a letter of support on Audias's behalf, citing his dying wish for his cousin Mario to adopt and care for his daughter. Thanks to DCF's efforts, Audias was able to get an emergency, 'virtual' court date and, on August 17th, his cousin Mario officially adopted Amaya."
In early September, after buzz started mounting that Guatemala's airport would soon reopen, Audias' hospice nurse case manager, Jacob Awandem, RN, quickly scheduled a home visit with Dr. Stoltenberg, who had collaborated with the Care Dimensions team. Dr. Stoltenberg cleared him for travel and provided information on palliative medical doctors in Guatemala for his family to set up prior to his arrival.
"While Mario worked with other family members to ensure Audias's passport was up to date, I worked on getting him a COVID test to ensure entrance to his country," Robertson said. "I also applied for a grant from Care Dimensions' Family Fund to assist with expenses for clothes and school supplies for Amaya."
Then, to help ease the transition and provide additional support to Amaya and Mario's family, Robertson introduced them to a Care Dimensions child life specialist.
"The child life team will continue to work with Amaya to help her process any grief or anxiety once Audias leaves," Robertson said. "Through their workshops, events, Camp Stepping Stones, and now virtual support groups, they can connect Amaya to other children who have lost a loved one and provide skills and resources to Mario's family on how to support Amaya."
Days before Audias's departure on September 20, Robertson slipped in one more surprise: a father-daughter photo shoot to capture precious moments and the bond they share. As he looked lovingly at his daughter, Audias said leaving his daughter was the hardest decision of his life, but he was happy to achieve his two life goals with Care Dimensions' help: get strong enough to see his mother again and make sure his daughter's future was secure and happy.
While our website will give you a better understanding about hospice care and the services that Care Dimensions provides, no one can tell the true story quite like our patients, families and staff. We encourage you to take a moment and read their stories and watch our videos.
You'll be forever changed as you learn about life's difficult final journey and the amazing patients, caregivers and staff who've embarked on the experience together.
---