Featured Story
Fulfilling Bucket List Dreams is Part of Patient Care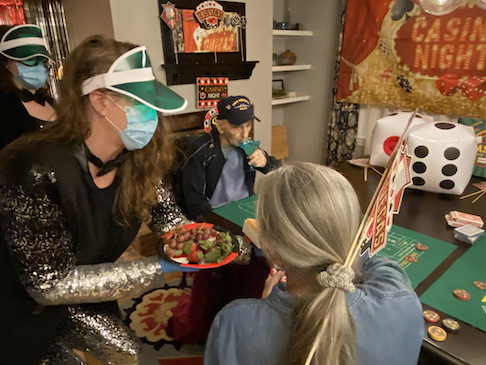 When John Kelemanik, 93, lost his wife of 67 years during the summer of 2020 he moved from Scranton, Penn., to live with daughter Grace and her family in Natick. It was an arduous move for him at an emotional time in his life. Once he settled in, his family turned to Care Dimensions to help them care for the World War II veteran who has advanced heart and kidney disease.
"We're so thankful to be able to work from home because of the pandemic," says Grace, a math education consultant. "It allows us to be around when we're needed."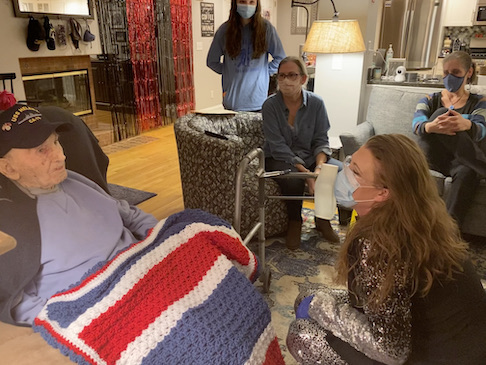 Through the course of getting to know John, his hospice nurse case manager, Erin Van Ness, RN, and his social worker, Jennifer Sheng, LICSW, discovered that he loved gambling and had been dreaming of going to the Encore Boston Harbor casino to play his favorite game of chance: craps. But because of COVID-19 precautions, a night on the town wasn't in the cards. So, Erin and Jen, did the next best thing – they brought the casino to John, complete with signs and banners, oversized dice and a professional gambling table felt for the dining room table.
John was ecstatic and the family was thrilled to be part of bringing him such joy. "He loves the thrill and risk of the gamble," Grace says. "He still bets on college football every week."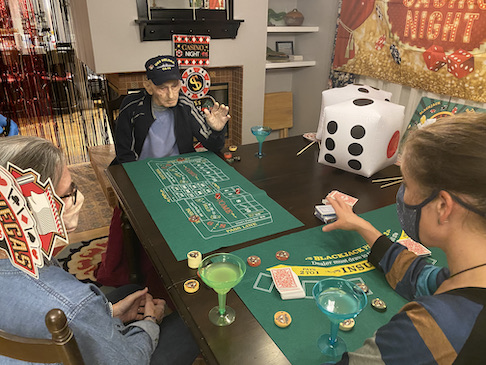 The family settled into their craps game and it quickly became apparent that John was the only one in the room who knew how to play. He reveled in schooling his family about the rules and "even money" and announced the odds before every roll.
"Do you all understand what you're doing now?" he asks at one point.
"Just in case you were thinking he wasn't sharp," Grace says with a wink.
Delivering on a patient's bucket list is all in a day's work for Erin and Jen. "It's half Make-a-Wish and half Disneyland, all rolled into one," Jen says.
Later, Grace said her dad played for three hours and won big. "He won pretty much all the chips and cashed them in. He was blown away. The next night, after we ordered takeout pizza, my dad took out his envelope with his winnings and said, 'I'll cover the pizza.' He felt good doing that."
"People, most especially patients, always feed off the energy you bring into the room," Erin says. "Whether they are very near end of life or just beginning hospice, it's so important for the hospice team to bring the energy in with them that they want everyone in the room to receive. Hospice is about living life to the last drop."
While our website will give you a better understanding about hospice care and the services that Care Dimensions provides, no one can tell the true story quite like our patients, families and staff. We encourage you to take a moment and read their stories and watch our videos.
You'll be forever changed as you learn about life's difficult final journey and the amazing patients, caregivers and staff who've embarked on the experience together.
---