Featured Story
Care Dimensions Counsels Family Overwhelmed by Toll of Alzheimer's disease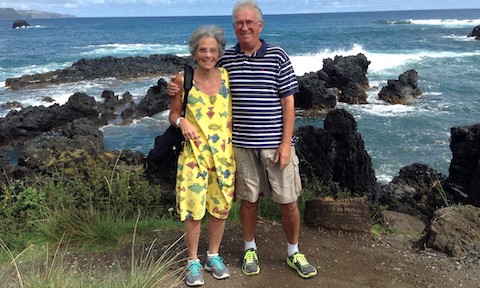 Mutual friends matched up Jim and Janice Wilson on a blind date in 1969, when they were both working in Boston, because they thought they would click as a couple. They were so right.
But now, Janice is essentially on her own again. In 2013, Jim, now 76, was diagnosed with Alzheimer's disease and his mental and emotional capacity has steadily decreased. In January 2018, Jim needed more supervision and help than Janice could provide at home and he moved to the Residence at Vinnin Square assisted living community in Swampscott. "There is nothing wrong with Jim physically except for this horrific, debilitating disease that has affected his memory and his very essence," says Janice, who, prior to COVID-19 restrictions, was at Jim's side three or four days a week.
By 2018, a couple of months after Jim moved into The Residence it was clear Jim needed more medical assistance as his condition declined. Janice decided to focus on Jim's comfort instead of further treatment. She called Care Dimensions for additional help. "I can sleep better at night with the sense of security the Care Dimensions team gives to him," Janice says." "Everybody goes out of their way to accommodate Jim's needs. I love how well the Care Dimensions team is totally focused on giving the incredible care so necessary during these difficult times. The Care Dimensions team is like family to us."
A devoted team cares for Jim
Prior to the COVID-19 pandemic, Jim's hospice RN case manager, Jeanne Adrien, visited him weekly and regularly participated in family meetings at The Residence to help coordinate his care. As the pandemic intensified and the facility began restricting visitors, Jeanne was able to continue seeing Jim in person, while she coordinated teleconference visits to update the family.
"Because of COVID, I was advised to get a letter from Jim's primary physician in order to continue to come into the facility and care for Jim," Janice says. "The Residence has gone above and beyond during the COVID pandemic to keep everybody safe."
"I'm honored to be able to work with Jim and his family through their journey," Adrien says. "This disease is so cruel and hard on family and caregivers One of the hardest things to cope with is that, because of the effects of his disease and mental decline, Jim doesn't recognize the love from his family. It's an emotional roller coaster for everyone involved. Hospice provides care for the patient, and we're also here to support the family through every step."
In addition to Jeanne, Jim's hospice team includes Social Worker Mireille Coyle and Chaplain Bob Hagopian, who made regular visits to support the whole family and will again when COVID restrictions are lifted. For now, they, too, have virtual visits with Janice.
Coyle offers advice for other families caring for a loved one with dementia or an advanced illness. "After hearing difficult news, try to appreciate that each family member copes and grieves in a different way. Take a minute and try to step back. Have a level of respect for how others deal with their grief differently," she says. "Then, know Care Dimensions is here if you need us."
While our website will give you a better understanding about hospice care and the services that Care Dimensions provides, no one can tell the true story quite like our patients, families and staff. We encourage you to take a moment and read their stories and watch our videos.
You'll be forever changed as you learn about life's difficult final journey and the amazing patients, caregivers and staff who've embarked on the experience together.
---