Featured Story
Therapy Dog Brings Joy to Patients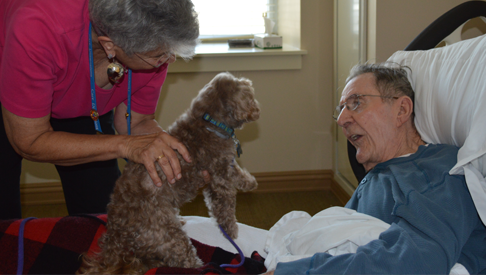 Cynthia Turover, who has been a Care Dimensions volunteer for nine years, and her pet therapy dog Louie made the day of three of our patients at Aviv Centers for Living in Peabody a little brighter when they visited the center in July for a pet therapy visit. Louie, a 14 year-old miniature poodle mix, charmed the patients and was very well-behaved. Ms. Turover and Louie engaged with the patients and the visit brought back some patients' memories of their own dogs. It was a special visit for all.
Ms. Turover volunteers in many capacities for Care Dimensions, including visiting patients without her dog and at the reception desk at the Kaplan Family Hospice House.
According to Therapy Dogs International, "therapy dogs bring sparkle to a sterile day, provide a lively subject for conversation, and rekindle old memories of previously owned pets."
We are always looking for pet therapy dogs and volunteers. If you are interested in learning more or you know of someone with a certified pet therapy dog, please contact our Sheryl Meehan, Volunteer Manager at 888-283-1722 or email SMeehan@CareDimensions.org.
While our website will give you a better understanding about hospice care and the services that Care Dimensions provides, no one can tell the true story quite like our patients, families and staff. We encourage you to take a moment and read their stories and watch our videos.
You'll be forever changed as you learn about life's difficult final journey and the amazing patients, caregivers and staff who've embarked on the experience together.
---