8 People I'll Remember From 2021
Posted on December 31, 2021 by Lisa Conti
The past year was a long and tough one dominated by the continuing COVID-19 pandemic, but I was lucky to meet some people who made it memorable for me in positive ways.
Each person I interview has a unique story about how Care Dimensions' services have affected them. I'd like to introduce you to eight people (four individuals and one quartet) I met in 2021 who taught me something about hospice or palliative care.
Bonnie
We often say that hospice makes more special moments possible. Bonnie Landry of Beverly showed me how true this is when she recalled her "bucket list" trip to Hampton Beach, NH, with her family in September.
Bonnie's RN case manager, Nicole, and other Care Dimensions staff helped Bonnie return to her beloved Hampton Beach, where she had spent many summers from childhood through adulthood. Having her family return to her favorite spot with her for a few days meant everything to her.
"To be able to look at the ocean, see the waves, see the moon reflecting off of the water – for me, who knows my time is limited – it was so touching, almost spiritual," recalled Bonnie. "It was an absolutely perfect trip."
Russell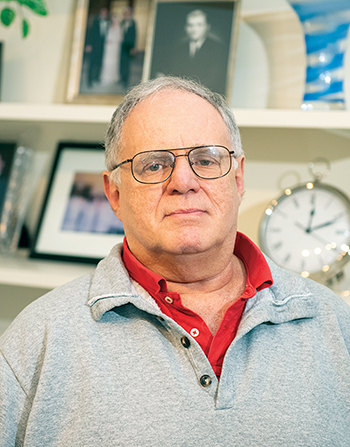 Russell Grand of Salem wanted us to share his story about how Care Dimensions helped him navigate his mother's difficult journey with dementia so that other caregivers in a similar situation could benefit from hospice for their loved one. As an only child of a strong-willed mother, Russell relied on the expert guidance of Care Dimensions staff – first with palliative care at his mother's home, then with hospice in a long-term care facility.
Central to this story was the hospice team's frequent and open communication with Russell and with his mother's clinicians at the facility, which kept everyone on the same page regarding the care plan. Hospice RN Case Manager Maria Ortiz said, "Because our team was still able to see Pauline in person, while Russell couldn't because of the COVID-19 visitation restrictions, we were able to help him feel more present, connected, and provide reassurance that his mother was well-taken care of."
"No one wants to watch a loved one die with dementia, but hospice can make it easier by teaching you how to communicate, and the best options to make them comfortable," Russell said.
Laura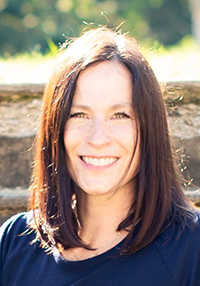 Once I learned that Care Dimensions volunteer Laura O'Connor had a connection to the Boston Bruins, we had plenty to talk about (I'm a lifelong fan). That connection was key to Laura developing a relationship with an 84-year-old hospice patient who didn't talk much with her until hockey came up in conversation.
"I saw Bruins paraphernalia when I first walked into my patient's home," Laura recalled. "I was able to bring her a signed photo and arrange a visit with one of our friends, who she was a fan of. We had such a great time. She was so excited, and it was a highlight of my time with her."
Using the common bond of hockey allowed Laura to engage her patient in other conversation and activities, including gardening and online research about deceased family members.
"Every time I call to tell her I'm coming, she's excited," Laura said. "It's great to know that I've been able to help in a way that makes a difference and I'm always glad that I spent time with her. Each visit is a gift to both of us."
Steve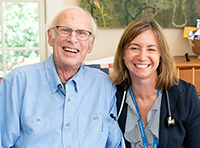 After undergoing chemotherapy, immunotherapy, and surgery for cancer of tissue lining his abdomen, Steve Homer decided to cease treatment and focus on quality of life with palliative care from Care Dimensions. At 77, he was still strong enough to enjoy gym workouts, cross-country skiing, woodworking, gardening, and keeping up with his grandchildren.
Over three years, palliative care helped Steve address pain and symptoms and maintain the best possible quality of life while living with a life-limiting disease. He traveled to Florida and Maine and reached his goal of celebrating his 80th birthday.
Steve spoke often with his palliative care nurse practitioner about what to expect as his disease progressed, and the types of care he would and would not want. He drew up advance directives and planned to transition to hospice at home when the time was right. He and his wife faced his illness head-on, and he had all his arrangements in order. (Note: Steve's health declined, and he died on Care Dimensions' hospice service at home a short time later, as he planned.)
Steve, Michael, Irwin, and Charles (The Essex County 4)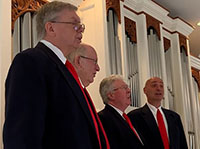 I had met The Essex County 4 barbershop quartet during Valentine's Day, pre-pandemic, when they sang to patients and staff at the Kaplan Family Hospice House. Our paths crossed again in 2021 when I learned that the quartet, who had sung to one of their friends from his Kaplan House patio, deeply touched a family in the next room so much that they were asked to repeat their performance at a memorial service for that family's mother, Jean Melzar.
"It was like Mom was being serenaded," said Jean's son, Steven Melzar.
"We wanted to have them at the memorial service so everyone could hear what Mom and we heard," added daughter Victoria Maxwell.
The quartet accepted the invitation and asked that their fee be donated to Care Dimensions in memory of their friend and Jean Melzar.
I am glad that I got to tell this story about the power of music at end of life and how it inspired a gift that will help other patients and families.
Read other patient stories and blog articles.
About the author
Lisa Conti is Senior Marketing Communications Specialist for Care Dimensions and manages its Voices of Care blog.
[ ]
Subscribe
Enter your email address to get
notified when new articles are published.
Search