Attending A New England Patriots Game: A Hospice Patient's Dream Come True
Posted on December 31, 2019 by Care Dimensions
When Joan McLynch was admitted to Care Dimensions hospice care for complications from her leukemia, her admissions nurse asked her about her primary goals and health priorities.
"I didn't have to think about it," says Joan. "I said that I wanted to feel good enough to make it through December 2019 and to attend the Patriots home game against the Miami Dolphins."
For the next two months, Joan's care team collaborated with her family to make her wish come true. Joan's lifelong dream had started in the 1960s when the team was named The Boston Patriots.
"Some patients facing their mortality are able to speak openly about their feelings, fears, wishes and preferences," says Angela O'Keefe, the Care Dimensions social worker on Joan's care team. "Joan was able to share her feelings with us, so we took this opportunity to improve her quality of life and to help make great memories for her family."
On Sunday, December 29, thanks to the support of her family and Care Dimensions team, 76-year-old Joan traveled with her family by limousine to the game.
"If you're going to go, go big," says Joan.
Joan's son-in-law Tod purchased tickets for the game. Then, Angela and social worker intern Danielle Meuse asked Joan what would make the day really special and how Care Dimensions could help.
"I have worked with agencies that grant wishes to our pediatric and adult patients, so I knew there were resources available for patients with end of life illnesses," says Angela.
Angela and Danielle applied to the National Hospice Foundation's Lighthouse of Hope Fund to pay for the family's limousine transportation, Joan's Julian Edelman jersey, and for a post-game family dinner to make it an extra special celebration.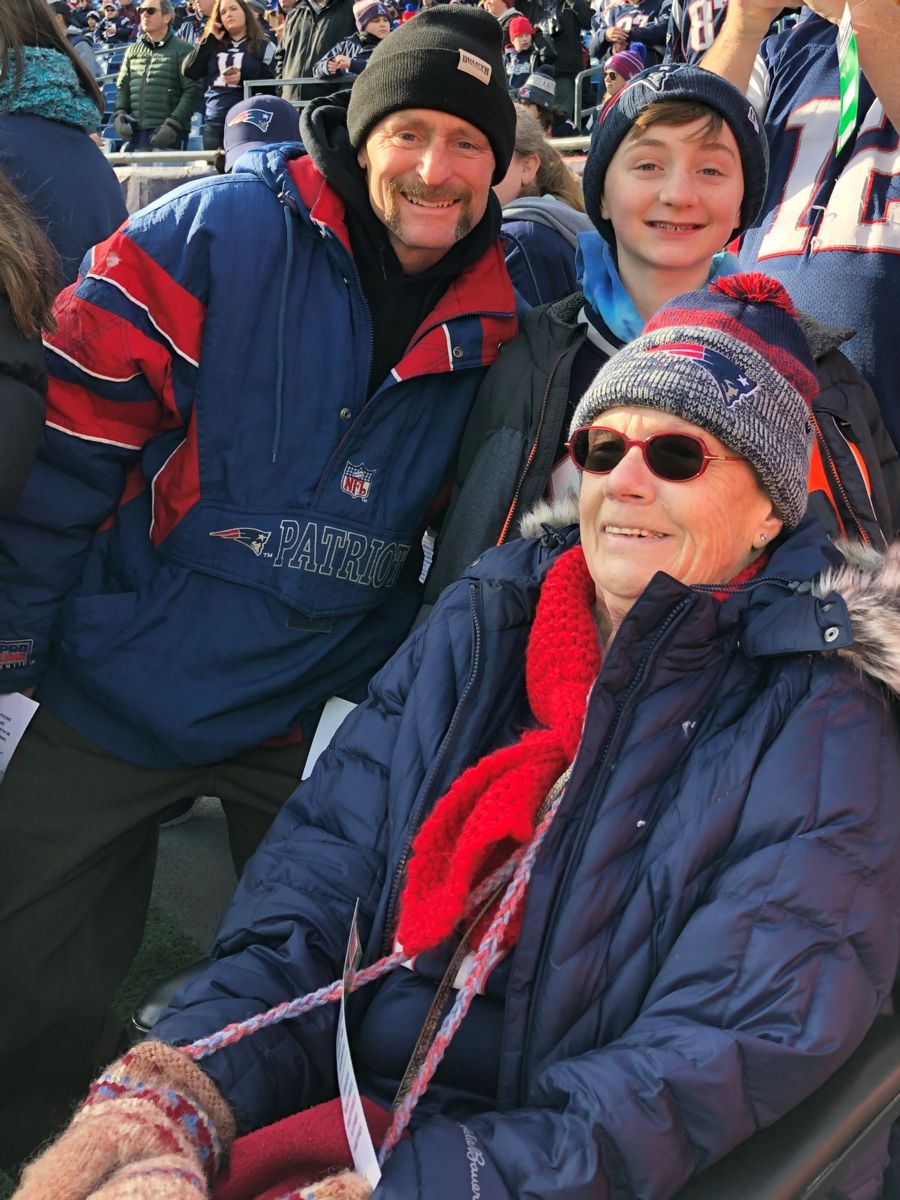 Joan and her family at the New England Patriots game
Two days before the game, the New England Patriots issued complementary passes for Joan and her family to be on the field for the pre-game warm up.
"It all went well and the family had a great day," says Angela. "Even though the Patriots didn't win, the family was able to help their mom to reach one of her bucket list dreams."
Visit the Care Dimensions Learning Institute for no-cost resources on how to share end of life wishes and health goals with family, caregivers and others.
[ ]
Subscribe
Enter your email address to get
notified when new articles are published.
Search