CCC Honors Co-Worker, Takes Walk for Hospice Global
Posted on September 17, 2020 by Lisa Conti
Sometimes, one person can make a big difference by inspiring others to do good work.
At Copyright Clearance Center (CCC) in Danvers, for many years that person was Christie Powell, senior human resources manager, who coordinated the company's participation in the Care Dimensions Walk for Hospice and numerous volunteer projects that benefit charitable organizations throughout the North Shore and beyond.
Powell not only promoted charitable giving and volunteerism to her co-workers, she led by example. While receiving treatment for cancer in 2019, she was among the team of 100 CCC employees who participated in the Walk for Hospice.
In February of 2020, Powell died at the Kaplan Family Hospice House, which is among the programs that benefit from Walk proceeds. Her influence lives on, however. Her co-workers are dedicating this year's virtual Walk for Hospice in her memory, and CCC is expanding its participation to their other sites around the globe.
Putting compassion to work
"Christie was an incredibly thoughtful and compassionate person," says CCC President and CEO Tracey Armstrong, who was a close friend and was hired by Powell in 1989. "She knew it was not enough to care. She believed you have to walk the walk – get out there, do it and show people that you genuinely care. Putting your compassion to work in such an effective way is inspiring. Christie inspired others to do the right thing."
"Helping others wasn't just part of Christie's job. It was part of who she was," says Robin Morgasen, CCC senior manager of internal communications. A few years ago, Powell and Morgasen created We Not Me, a charity initiative that provides opportunities for employees at CCC locations in North America, Europe and Asia to exercise social responsibility in their communities. In June 2019, some 500 employees volunteered on behalf of 20 charities that help economically disadvantaged persons, victims of domestic violence, people with disabilities, children's services and the environment. In February 2020, CCC expanded We Not Me to a year-round program.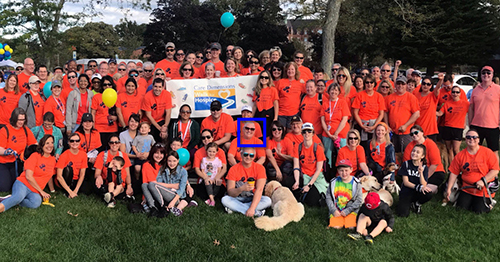 With the Walk for Hospice going virtual this year, CCC decided to make it a global event. On Sunday, September 20, at 9:30 a.m. EDT, employees based in Danvers, Spain, the U.K., the Netherlands, Germany, Romania and Japan will walk at the same time around their neighborhoods while adhering to local protocols for social distancing and safety. For each employee who participates, CCC will donate to a hospice that serves the employee's region, which builds on the commitment the company has made to Care Dimensions for many years.
Hospice's reach and effects
"A lot of us have been touched in some way by hospice," notes Morgasen, who has participated in the Walk for Hospice many times. "The work that hospice does is so important and so many of us have seen and appreciated how loved ones are cared for by these programs."
"Hospice has been a huge gift to CCC," says Armstrong, "It's so powerful and has so many benefits – it offers emotional and spiritual care for the patient and those who care about the patient."
Armstrong is grateful for the support and guidance Powell's loved ones received from Care Dimensions staff during her end-of-life journey and after her death. Regular outreach included phone calls and mailings with recommended readings, which they found helpful. She says their interaction with Chaplain Beth Loughhead was especially beneficial.
"Beth listened. She gave us perspective," Armstrong recalls. "Sometimes it's hard to have faith when you see someone dying. Beth didn't say what the answer was. Beth was reassuring and gave us permission to doubt and ask questions. She validated our feelings and helped us talk about how we felt."
Armstrong notes that CCC is dedicated to helping raise awareness about hospice, which "is as important to me as raising money." Participants in the global walk will wear their We Not Me shirts and take selfies, which will be shared with employees across the company. Care Dimensions thanks all those at CCC who are helping others learn about and benefit from hospice care.
Learn more about Care Dimensions' Walk for Hospice.
About the author
Lisa Conti is Senior Marketing Communications Specialist for Care Dimensions and manages its Voices of Care blog.
[ ]
Subscribe
Enter your email address to get
notified when new articles are published.
Search