Caring Through COVID-19 Pandemic
Posted on July 1, 2020 by Mary Hickey, RN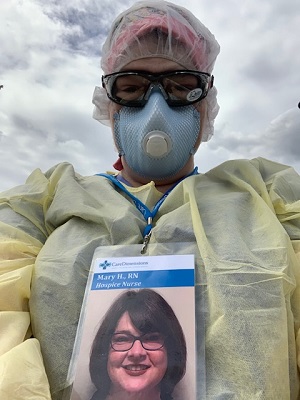 I've been a nurse for over 20 years and have seen a lot, but nothing prepared me for COVID-19 and its effects on patients, their families and those of us providing care. It may be hard to find a silver lining to this pandemic, but if I've taken anything from this experience, it's the confirmation of just how important and impactful hospice care is.
I came to Care Dimensions in September 2019 after many years in major medical centers in Boston and New York City. I've always been drawn to end-of-life care, but it wasn't until my father was diagnosed with terminal cancer two and a half years ago that I finally decided to pursue it as my career.
Pandemic steepened learning curve
Usually, when you start with an organization there's a learning curve for navigating its infrastructure: documentation systems, ordering processes, etc., but add an unprecedented global pandemic and there is a new layer of learning the unfamiliar.
Since nobody has faced this before, different care facilities have had different action plans — some facilities have allowed me in, others haven't. In the first few weeks of the outbreak — when there were rumors about business and facility closures — some families sought to have their loved ones brought home; that meant pulling together discharges and organizing at-home hospice care in a single day. Other families didn't have the option to bring their loved one home and panicked at the thought of not being able to see them.
The virus creates a barrier, figuratively and literally. It requires caregivers to wear layers of PPE that diminish the personal, physical element of care that is so crucial. Smiles are masked and hands that hold patients and rub their heads are gloved. And the virus separates loved ones when they need each other the most. I have experienced an element of this with my own family: my exposure to COVID-positive patients has forced us to limit our contact and I have feared spreading the virus to my children and they worry about me and my own health.
Meeting the challenge
This a pandemic that's behind closed doors. So many people don't see the health care workers working tirelessly day in and day out and the impact it has had on staffing and the ability to provide care. And because patients are in isolation while battling the virus, people who don't have it so often don't see the suffering. It's a striking dichotomy and I have often been a bridge between these two worlds.
Working in hospice means helping patients and their families navigate saying goodbye and get necessary closure. COVID-19 has turned this process on its head, and for many families has taken it away completely. Gone are final moments with a loved one before they pass, and delayed services so often mean delayed grief and missed opportunities to share memories.
It has been a challenging season in my career in many ways, but working for Care Dimensions has been a blessing. The entire organization has been a show of force and a source of unwavering support. From hand-delivered PPE supplies to self-care and personal resources, to constant and transparent communication from upper management, Care Dimensions has provided everything I've needed and more.
I was told before I came here that if you wanted to work in end-of-life care, Care Dimensions is where you wanted to be. Although unconventional and at times bittersweet, my time here so far has proven these words to be truer than I could have ever hoped.
Learn about careers with Care Dimensions.
About the author
Mary Hickey, RN, is a nurse case manager with Care Dimensions.
[ ]
Subscribe
Enter your email address to get
notified when new articles are published.
Search