Join our Caring Team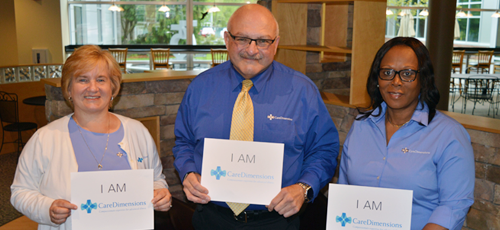 Find Your Future with Care Dimensions!
Are you searching for a rewarding career in health care?
Do you want to work with an award-winning industry leader that cares for its patients and its team members?
Consider Care Dimensions – Selected by Modern Healthcare as One of the 2021 Best Places to Work in Healthcare – our second time winning this award, which is based on an extensive employee survey. Formed in 1978, Care Dimensions is a non-profit organization that has grown to become the largest provider of hospice and palliative care services in Massachusetts
We're looking for skilled, mission-driven people for clinical and non-clinical positions to help us provide comprehensive and compassionate care for individuals and families dealing with advanced illness.
"Everyone likes to have a sense of purpose. For me, there's no greater feeling than knowing I've made a difference in someone's life."
Senior Hospice Aide Toni, with Care Dimensions since 2008

"I love working at Care Dimensions because this is an organization that takes care of its staff and colleagues."
RN Admission Liaison Ana, with Care Dimensions since 2014
We are committed to a diverse, equitable, and inclusive workplace, which makes our organization strong.
Benefits and Professional Growth
Care Dimensions offers a comprehensive benefits package to employees, who are eligible the day they're hired.
We also encourage and facilitate an environment of professional growth to support both our mission and individual employee needs. We provide ongoing preceptor and mentoring opportunities, in-service training, certification preparation support, tuition reimbursement, and student loan pay-down help.
VIEW OPEN POSITIONS AND APPLY NOW

Contact Us
If you have any questions, please email: [email protected] or call 978-223-9722.
---
Learn why nurses, aides love working at Care Dimensions
---