Devoted to Each Other Forever
Posted on February 8, 2019 by Diane Sullivan and Karen Knowles, on behalf of the Trainor Family
When our parents, Don and Marie Trainor, took their wedding vows 63 years ago, they promised they would love and support each other forever. And they did. They were truly devoted to each other.
Family meant everything to Mom and Dad, who raised six children in the same house in the Saugus, MA, neighborhood they loved. Later, they welcomed their grown children with their families who returned for visits, cookouts, pool parties and holidays. With 15 grandchildren and six great- grandchildren, it seemed like there was always an event happening at Mom and Dad's house.
Staying home
Mom took care of Dad and Dad took care of Mom. As Mom grew older, she needed more help with activities of daily living, so Dad took over as the main chef. He enjoyed cooking and was always game to please Mom with a special request for breakfast, lunch, dinner or a midnight snack.
Later, as they both required help to move around, they spent their days together in the sunroom that opened up next to their bedroom, sitting in lift-assist reclining chairs to read or watch their favorite TV programs, including Red Sox and Patriots games. They both had progressed from requiring canes when walking, to using walkers and then wheelchairs.
Dad decided to have the home modified so he and Mom could age in place. Widening the doorways, removing rugs, and relocating the laundry to the accessible bathroom were all in an effort to extend their time at home. A wheelchair ramp gave them access to the outdoors to wheel down the street or around the block, or to take a ride in the specially outfitted van for travel to grandchildren's baseball games.
Hospice with Care Dimensions
Dad had a history of cardiac and respiratory problems, which worsened significantly in February 2018. A CT scan detected lung cancer, and his primary care physician suggested hospice care. Four years previously, Dad had a bout with bladder cancer and was treated with radiation. He did not want to undergo extensive intervention this time, and opted for comfort care with hospice.
This was a big change for Dad. He was used to being a caretaker for others and being in control. Now he needed help with his own care. He understood what it took to make every day go smoothly and he expected the same; he had set the bar high.
Dad's hospice team from Care Dimensions was fantastic right from the start. They had the same high expectations that he did. They made a connection with Dad right away. They cared for Dad like a friend, and we found out they became true friends. They approached their work with a smile and positive attitude that made a world of difference. Dad looked forward to their visits and trusted their guidance and suggestions. He was still in control of his life, which gave him the dignity that he wanted and deserved.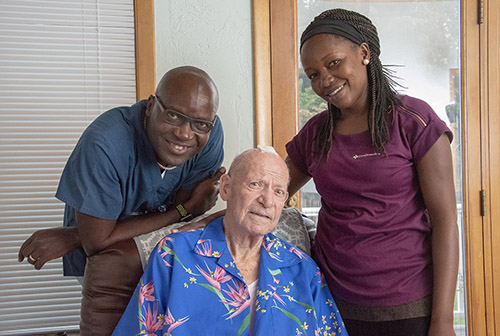 Don looked forward to visits from his Care Dimensions hospice team, including aide Moses Mugwanya and nurse Diana Byomuhangi.

Dad truly respected aide Moses and nurse Diana, and they respected him. He lit up when they entered the room. He often told us how good they were to him and Mom. They understood who he was and shared stories with him.
Dad also benefited from visits with his social worker, Danielle, who helped him with tough conversations about his declining health. Danielle also was a great listener. Dad and Mom both shared stories of their lives together. Dad also enjoyed relaxing massages from the Care Dimensions complementary therapies team on a regular basis.
In August, Mom's health took a turn and we inquired about hospice for her. The admissions nurse determined that Mom would be a good candidate for hospice and it would enhance her quality of life. Dad was relieved to learn that the same Care Dimensions team he admired would care for Mom, too. It was hard to believe that our parents were side by side in hospital beds in the same bedroom that they shared for over 58 years. It was important for Mom and Dad to be in a familiar place surrounded by family and friends, and it was comforting for us to know that they felt happy, safe and secure in their own home.
Throughout the 10 months that the Care Dimensions team worked with us to care for Mom and Dad, they were always responsive and were respectful of our questions and concerns about our parents' needs. By providing clear information, they guided us as they guided our parents through their final stage of life.
Together forever
As the end of the year approached, Mom and Dad were both failing. Their daily eating routines and sleeping patterns changed and their breathing became labored. The hospice staff was amazed at Dad's devotion to Mom as he watched her become quieter. He made sure that he stayed alert to her every need and took comfort in seeing her cared for. On December 27th, our parents were given last rites by our local priest in their bedroom. Dad passed peacefully surrounded by his family that afternoon and Mom quietly followed three days later.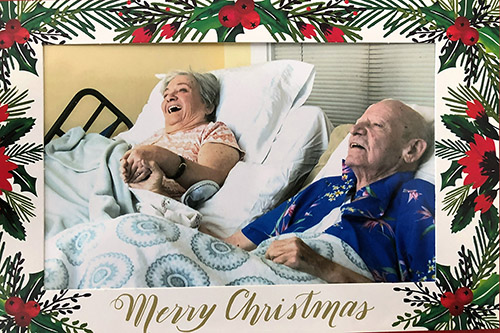 True love comes once in a lifetime, and sometimes when people say forever, they mean it.
We will forever be thankful to our Care Dimensions team. Mom and Dad were cared for by compassionate professionals dedicated to their work and devoted to them. Choosing hospice when we did made such a difference. Instead of having a month to process our parents' serious illnesses and end stage of life, we had 10 months to celebrate their lives and enjoy every day. This was truly a gift to our family.
For a hospice or palliative care evaluation, call Care Dimensions at 888-283-1722, or request services via their online form.
About the authors
Diane Sullivan and Karen Knowles are daughters of Don and Marie Trainor. They and their four siblings grew up in Saugus, MA.
[ ]
Subscribe
Enter your email address to get
notified when new articles are published.
Search