Hospice Nurse Wins Bath Makeover for Veterans
Posted on November 10, 2021 by Lisa Conti
As U.S. military veterans, Miriam and Jerome Thomas have faced their share of challenges and know the value of teamwork.
Miriam, an LPN triage Baylor nurse with Care Dimensions, served in the Army National Guard for eight years, including a 15-month active duty tour in Iraq as a combat life saver. Jerome served for four years active duty in air traffic control for the Marines.
Miriam credits her military service in Iraq as the main reason she became a hospice nurse. She provided soldiers with IVs and kept them safe until they could get to a medic. Upon returning to the U.S, she wanted to work with people who were dying and make them as comfortable as possible.
Challenge at home
In early fall, Miriam and Jerome noticed the bathtub was leaking in the Andover home. The leak developed after they had purchased the home in March, and water damaged the bathroom floor and the basement ceiling. They couldn't afford a permanent repair, so they explored temporary solutions. That's when the support and perseverance of a Care Dimensions co-worker and the kindness of a local home improvement company came through for Miriam and her family.
Hospice Nurse Tami Swindell and Miriam have worked together for six years, first as weeknight on-call nurses and now on the weekend overnight shift (Tami sees patients in their homes and Miriam supports patients and families by phone and directs the flow of patient visits by the hospice nurses). They have become friends, and in 2020, Tami nominated Miriam for the NEWPRO Home Solutions Health Care for Heroes Bath Initiative. Another nurse won the bath makeover, but Tami learned of a similar contest for veterans (Baths for the Brave) in November 2020 and nominated Miriam and Jerome. Again, the bath remodel went to someone else.
"When I first heard about Baths for the Brave, I thought of Miriam and Jerome," said Tami. "I know they have both served our country in the military and I feel they are really deserving of this wonderful opportunity." Tami nominated Miriam and Jerome again this year, and the third time did prove to be a charm.
"NEWPRO called me on October 12th to ask me if they could consider me for this year's Baths for the Brave," Miriam recalled. Tami urged Miriam to hold off on any bathroom repairs until Miriam knew for sure if she had won the bath makeover. A little inconvenience and a lot of patience paid off. Miriam and Jerome's nomination was chosen and on November 4th, NEWPRO employees – who volunteered their time – ripped out the Thomas' old leaky tub and replaced it with a new bath system.
The estimated value of the bath remodel is $20,000.
Teamwork and compassion
"We were so excited to learn that we were selected for this fantastic makeover, which came just in time," exclaimed Miriam. I can't thank Tami enough for her support."
"I am very happy and excited for Miriam and her family to receive this bathroom upgrade," said Miriam's supervisor, Jennifer Riley, clinical manager of continuity of care. "I was not surprised when I heard that Miriam had been nominated by her fellow nurse Tami Swindell. Tami is a true cheerleader for her weekend teammates. Recognizing that Miriam would qualify for this contest and then entering her demonstrates Tami's compassion, which she also consistently provides to her patients. I am very proud and honored to work with them both."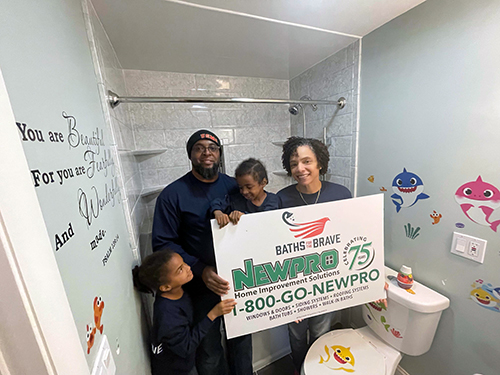 The Thomas family is thrilled with their bath makeover by NEWPRO.
Jennifer and Tami joined Miriam, Jerome, the Thomas children, and NEWPRO representatives for lunch and photos on remodeling day. Jennifer presented Miriam with a bath care package and gift card as congratulations from Care Dimensions.
"I was absolutely thrilled when I found out Miriam and Jerome were chosen to receive this awesome gift," said Tami. Earlier during the pandemic, Miriam "consistently went above and beyond to fill in evening/night shifts where needed in both triage and the field, many weeks working six or seven nights in a row," Tami added. "She managed to do this while home schooling five children. The prize is so well deserved and it feels great to have a hospice nurse recognized in the community!"
Miriam and Jerome's bath remodel is one of 16 projects conducted by 9 home improvement companies across the country during this year's Baths for the Brave. Read more about Miriam and Jerome at: https://www.newpro.com/blog/baths-for-the-brave-2021-recipients-meet-jerome-miriam-thomas/.
Learn about our Veterans Hospice Program.
About the author
Lisa Conti is Senior Marketing Communications Specialist for Care Dimensions and manages its Voices of Care blog.
[ ]
Subscribe
Enter your email address to get
notified when new articles are published.
Search