How Care Dimensions Changed My Mind About Hospice
Posted on September 23, 2020 by Antonella Acierno
I used to be one of those people who think hospice is all about death. That was before hospice helped my father and our family the first time.
My father, Stefano "Steve" Acierno, had been living with Parkinson's disease for many years, but in 2016, he developed an infection that made him very sick. His doctor recommended hospice instead of more trips to and from the emergency room.
My father was bedridden at this point, but I was hesitant to accept him going on hospice. Was this the best option? Didn't this mean Dad would die soon?
Trying hospice care
I spoke with my father's visiting nurse, who told me that her mother had hospice care. She said it was "the best thing that could have happened for my mom." She suggested we try the service and see for ourselves.
I am so glad we called Care Dimensions.
The admissions nurse came to the house to assess my father's home layout (my parents lived downstairs and my family lived upstairs). Within 12 hours, everything Dad needed to be comfortable and cared for at home was in place. He received a special mattress that was superior to the one we had bought (and we thought we had a pretty good one). Care Dimensions also had a cardiac chair delivered, which reclined and allowed my father to sit comfortably at the dinner table with us. It made mealtime – especially at the holidays – more enjoyable for him.
The months rolled by with regular visits from the Care Dimensions nurse and my father started to feel better. He remained mostly bedridden but he was eating and not losing weight. After about a year, he "graduated" from hospice because his symptoms had stabilized.
Believing in power of hospice
Care Dimensions had dispelled my initial, uninformed beliefs about hospice. A year earlier, I thought accepting hospice for my father meant he surely would die soon. But then I saw how it helped him be more comfortable and live life the best he could.
Parkinson's is a long-term degenerative disease and although my father no longer qualified for hospice – which requires two doctors to certify that the patient is expected to live less than six months – his motor skills and mind continued to deteriorate slowly. In August of 2019, about two years after he came off hospice, his condition worsened considerably.
This time, I did not hesitate and called Care Dimensions for a hospice referral. He was admitted and when the care team came in again, they reassured us that he would be comfortable. The nurse, Maureen Macaro, who had cared for him three years earlier, made him smile. Just seeing that interaction made me feel better. As much as hospice provided encouragement for my father, I think the family benefited even more.
We learned so many things from the hospice care team. They provided booties for him to wear in bed, which were better than the ones we had bought online. They also provided supplies and techniques to help us ensure he was always clean and comfortable. We were reassured that Dad was getting the best of the best.
Keeping a promise
Care Dimensions made it possible for me to keep a promise to my father that he would not have to live in a nursing home. He had all the comforts of a medical facility in our own home. He was always around familiar faces.
In late May 2020, my father suddenly stopped eating and was spitting out food. He wasn't himself, and we suspected he could no longer swallow. In the middle of the night he woke up screaming. We called Care Dimensions and the weekend nurse came right away. She sedated him and stayed for an extra hour after he had calmed down. She told me that my father had entered the final phase of his journey and was actively dying. She told me what to expect.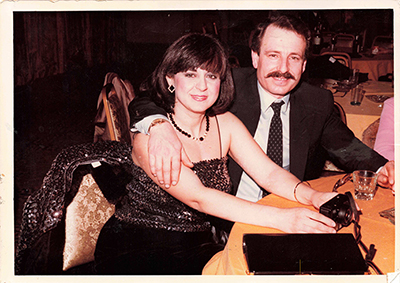 For the next two and a half days, a hospice nurse came every four to five hours to check on Dad and ensure he was not in pain. He didn't look sick – he looked as he always had when he was sleeping. On the morning of June 1, he peacefully took his final breath.
(Photo: Maria and Stefano "Steve" Acierno at a charity dinner for disabled children, c. 1985)
Fifty years earlier, when Dad was 30, he emigrated from Italy and settled in Everett, MA. He was a mechanic and later owned a gas station. He was active in local civic organizations and raised a lot of money for charities. My father was a businessman, but what made him happy was when he could help someone.
Giving back
Now I want to give back for the compassionate and excellent care Dad received from Care Dimensions. Coincidentally, I had started working at Care Dimensions as a senior health care data analyst just two months before my father went on hospice service for the second time. I had been with the same employer for 20 years and it was time for a change. I had seen Care Dimensions nurses provide outstanding care for my father in our home and had become a fan. Within a couple of weeks of landing the job, I knew I was in the right place.
Through my father's experience, I've learned that hospice is not about death. It is about managing pain and having the extra services a seriously ill person needs to be comfortable and live life as best they can. It also provides the family with an added sense of security and peace of mind.
Care Dimensions was able to replace our sadness, fear, and uncertainty with relief and happiness; they made it possible for us to enjoy what was left of my dad's life.
That is why I support the Care Dimensions Walk for Hospice, and I hope you will as well.
About the author
Antonella Acierno is Senior Health Care Data Analyst for Care Dimensions. She resides in Wakefield, MA.
[ ]
Subscribe
Enter your email address to get
notified when new articles are published.
Search