I Walk for Mary, my mother and best friend
Posted on August 5, 2021 by Gale Page
I lost my mom and best friend, Mary Hoehn, on May 26, 2021. She was the family matriarch to seven children, 13 grandchildren, nine great-grandchildren, with a very large extended family. That wide circle of relatives and friends rallied when Mary's health failed and she needed bedside help. If it wasn't for that circle and Care Dimensions I wouldn't have been able to keep my promise to my mother that she would never be in a nursing home, where we couldn't be with her 24 hours a day.
It was a very gradual loss. Mary's spirit and essence left us before her body did. Dementia claimed my mother's ability to have a conversation, to walk, to call her loved ones by name. The disease robbed her of her speech but not her smile. We all knew how to make her smile.
It was April 2021 when we called Care Dimensions for help. Her wonderful care team arrived at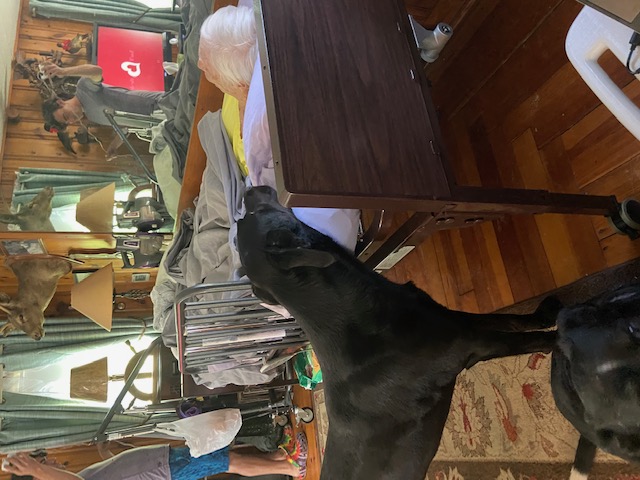 my mother's beside with hospice support, and they also supported my family during this challenging time. It was challenging for us because we knew how to love her but her medical needs were more than we could provide alone. Her hospice team also counseled my brother and me, her grandchildren and many friends through her end-of-life journey.
I'm grateful for Kevin Carey, my mom's chaplain, who was so amazingly calm. He played music for her and gave her the last sacrament, the last prayers.
I'm grateful for my family friend and Care Dimensions nurse Katie Swenbeck, who came by and offered us wonderful advice about the right wheelchair for my mom, a rugged chair to transport her outside to enjoy her gardens, which was provided by Care Dimensions.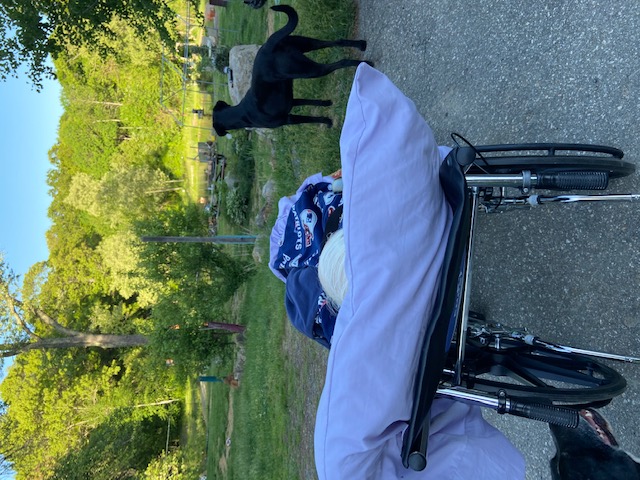 Four of us would each grab a corner of her bedsheet and carry her to her wheelchair, which was comfortable for her because it tipped backward and she could relax like she was in bed. Getting her outside was the most amazing experience. I could sense she was present when we brought her outside under her favorite tree: She smiled.
We have so many reasons to celebrate the thoughtful care from Care Dimensions. One way that we're giving back is by participating and raising money for Care Dimensions' Walk for Hospice. Since the Walk is virtual this year, our team, Mary's Angels, decided to walk in July following a path that meanders among the wooded hilltops surrounding my mom's home, where three of her kids, including me, and one grandson now live. We walked in memory of my mom, to celebrate her wonderful caregivers and to raise funds so other patients and families can have the best quality and most comprehensive end-of-life care possible, when they need it most. I recommend Care Dimensions to anyone who has an elderly parent. The hospice teams are all incredibly caring people.
I speak from my heart when I say Care Dimensions was there for us and now we want to be there for Care Dimensions. I hope you will join me by registering or donating to the Walk for Hospice. Please donate to the cause.
About the author
Gale Page lives in North Andover with her family. She works at Beverly City Hall.
[ ]
Subscribe
Enter your email address to get
notified when new articles are published.
Search