Introducing the Hidden Hospice Case Manager
Posted on May 16, 2019 by Janet Zipes
Linda Petraglia of Bedford, MA, has chronic obstructive pulmonary disease, which often causes shortness of breath and extreme fatigue. As a patient enrolled in the Care Dimensions Respiratory Program, Linda receives regular visits from her hospice care team. In between those visits, Linda still feels well cared for, due in large part to Care Dimensions' Confidence Liaison Diane Theriault.
Diane's primary job is to check on respiratory and cardiac patients by telephone. The patients are able to remain in their homes thanks to the specialty care that includes telehealth monitoring of their conditions and check-in phone calls from Diane.
Diane asks Linda about her breathing, her energy level, and whether she's experiencing pain or other symptoms. She records the information. But the conversation doesn't end there.
"Many of my patients are homebound and spend a lot of time on their own so they tend to look forward to my calls," Diane explains. "While I do have a set of questions I routinely ask, the conversation often drifts towards other topics. They can be fairly mundane, such as a grandchild's visit or a book they are reading, but sometimes patients want to talk about deeper matters, such as their childhood, their goals for the time they have remaining, and their spiritual feelings."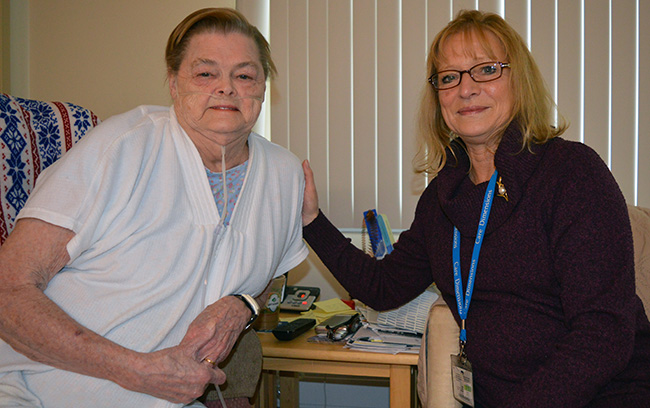 Although Linda and Diane share an important bond and have known each other for over a year, the two met in person only recently. Both women were thrilled to have this rare opportunity.
Diane has developed a special rapport with Linda and was thrilled to have the recent opportunity to meet her in person for the first time. "I feel privileged that she shares so many private stories and inspired that she still finds joy in the 'every day.' I always tell her, 'Linda, your heart is as big as the moon.'" In describing her feelings about Diane, Linda says simply, "I love her to pieces. She's like a daughter to me."
Linda isn't the only one with high praise for Diane. Lili Sanchez, RN, is Specialty Programs Manager at Care Dimensions. She is also Diane's boss. "Diane has outstanding people skills," she explains. "She reaches out to the patients and they easily welcome her calls. She also has a kind demeanor, which is all-important in this job. Diane is a critical member of our interdisciplinary team!"
"I love the fact that I am able to support a patient's entire team at Care Dimensions," Diane says. "What I love even more, though, is the opportunity to connect with the patients themselves, to develop a trusting relationship with them, and to give them the resources they need to feel comfortable and, yes, confident, in between visits from their clinical team."
"My friends and family often ask me if it's difficult to work with patients who are seriously ill. Sometimes it is, but I take great comfort in knowing that I am helping to make life a little easier and a little more comfortable for people like Linda and the rest of our amazing patients."
Hospice is not just for patients dealing with end-stage cancers. It's also for those, like Linda, who are suffering from life-limiting respiratory illnesses. It's also available for those suffering from cardiac disease. Learn about our specialty programs.
Interested in working with Care Dimensions? Check out the Careers section of our website, including current job openings.
About the author
Janet Zipes is a freelance writer specializing in healthcare-related topics.
[ ]
Subscribe
Enter your email address to get
notified when new articles are published.
Search