My Essay Won a $10,000 Award for Care Dimensions
Posted on August 2, 2021 by Sean Casey, Branch Leader for Movement Mortgage
When I had a chance to write an essay through a charitable contest, Grace Works, sponsored by my company, Movement Mortgage, I chose to write about the care provided to my mom by Care Dimensions. I am so grateful to have won and to donate the $10,000 award to this wonderful organization. I share my essay with you.
But first, a little bit about my mom, Mary.
Mary loved going out with friends and playing golf. She was a member of a bowling league for 500 years (family joke!). And she was my rock. She provided the stability I needed when my wife became ill in 2005 and I, essentially, became the single parent of two four-year-olds and an infant. Mom cooked chicken cacciatore for me every Sunday for a year. I could visit her and she'd take over; I could be just her son.
Over time, my mom's friends, all elderly, had faded away and my sister, Colleen, and I were really the only people she talked to. She had lived alone in her own apartment and was quite independent, all 4 feet, 9 inches of her.
And now, my essay.
On April 28, 2019, everything changed. My mother, Mary Casey who, at 88 years young, had been sharp and energetic, suffered a rapid series of strokes while in a rehabilitation center recovering from a fall. The staff provided immediate, intensive medical care and she survived. Sadly, the doctors explained that the damage was extensive and that she would likely pass away within two weeks.
My sister Colleen requested that my mother be allowed to spend her last days in my sister's home rather than in a typical hospital setting. The hospital provided contact information for a company called Care Dimensions which, among other valuable services, provides assistance and support to individuals in need of hospice care and to their families. Hospice care is defined as the care of individuals expected to pass away within six months who are no longer being treated toward a cure.
According to Care Dimensions, one of their goals is to "help patients and families meet their unique end-of-life goals; manage complex physical symptoms and improve comfort; address emotional and spiritual concerns; educate patient and family about what to expect at the end of life; provide grief support for families."
I cannot overstate the professionalism and kindness with which the people at Care Dimensions delivered on this mission statement. Never having had the opportunity to say goodbye to my Dad when he died suddenly many years ago, I was concerned that my mother, living alone, might one day suffer a fall or some other incident and die alone. I was always in awe and a bit jealous of families who shared stories about loved ones passing away surrounded by the love and the presence of family.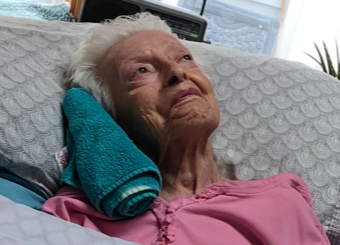 Care Dimensions made this possible for my mother and my family. From the instantaneous response regarding our need for a hospital bed and a nurse to make the necessary preparations for my Mom's bedroom in Colleen's converted living room, to instant responses by nurses when middle of the night emergencies arose, to visits by a kind and loving priest who spoke with, blessed, prayed with and beautifully sang to my Mom, Care Dimensions transformed what could have been a tragic and ugly last few days of life into a beautiful, peaceful, and loving time where my Mom was able to see her family, hear words of love, and goodbyes in a setting that was as beautiful and peaceful as this son could have ever hoped and prayed for his Mom, during her last days here with us.
Care Dimensions had also assisted when Colleen's father-in-law passed away two years ago and their commitment to the family and follow up extended for an entire year after his passing.
They are truly a beautiful group of people doing beautiful work. I would appreciate your considering Care Dimensions for Grace Works' acknowledgement as a special place doing very special work.
About the author
Sean Casey is the branch leader for Movement Mortgage in Nashua, N.H. He grew up in Peabody, Mass.
[ ]
Subscribe
Enter your email address to get
notified when new articles are published.
Search