My Introduction to Reiki
Posted on August 25, 2016 by Lisa Conti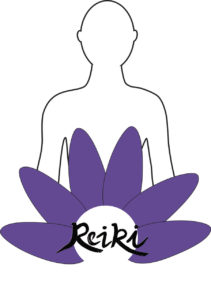 Before I started working for Care Dimensions, I had a vague idea of what Reiki was, as I recalled my massage therapist talking about a treatment she had a few years ago. She said the Reiki practitioner uses a very light touch to transfer energy that relaxes you and can have healing benefits.
According to the
International Center for Reiki Training
, Reiki is "a Japanese technique for stress reduction and relaxation that also promotes healing. It is administered by 'laying on hands' and is based on the idea that an unseen 'life force energy' flows through us and is what causes us to be alive."
Shortly after I began working at Care Dimensions, I mentioned to my massage therapist that I had access to a free, 20-minute Reiki session that is offered to three employees each month by Gail Thompson, a longtime volunteer who also performs Reiki on hospice patients. "You absolutely should take advantage of that," she told me. "You won't regret it."
My first few months of employment were extremely busy as I learned how our marketing department operates and I took on many different tasks. In the spring, I supported production of a
video about Care Dimensions' complementary therapies
, which includes Reiki. I hadn't had time for a session myself, but I witnessed Gail performing Reiki on a patient at the
Kaplan Family Hospice House
.
I stood quietly on the far side of the patient's room as Gail turned on some soothing background music and hovered over the elderly woman who sat, eyes closed, in an armchair. Gail gently placed both hands on the woman's head. After a minute or so, she moved her hands to the woman's slight shoulders. The videographer filmed quietly, careful not to upset the calming mood that filled the room. The patient didn't move or utter a sound as Gail slowly but deliberately placed her hands on the frail woman's arms, legs, midsection, and head.
I sensed that the patient was getting something out of the Reiki session. Her eyes remained closed and she looked so relaxed that she appeared to be asleep. What a gift, I thought, to be free of stress at such a stressful time.
A couple months later, I finally got around to scheduling an appointment with Gail so I could find out for myself what Reiki was all about.
Other than a relaxing mid-afternoon break, I wasn't exactly sure what to expect from my first session. Gail ushered me into the Relaxation Room, a dimly lit 10-by-10-foot room adorned with tropical wall hangings and the words, "Live", "Laugh", and "Love." The same calming music I had heard at the Kaplan House played softly in the background. Gail invited me to take off my shoes and lie face up on the massage table in the center of the room. With my head and feet resting comfortably on pillows, she covered me with a sheet. I told her I had been looking forward to having Reiki ever since my massage therapist suggested I try it.
"OK, good," Gail said calmly. "Close your eyes, and focus on your breathing."
As I did that, Gail leaned over from behind me and gently placed her hands on my head. After about 15 seconds, I began to feel gentle warmth where her hands were placed. It was a pleasant sensation and I welcomed it. After a minute or so, she moved to my shoulders. The radiating heat came more quickly and intensely, and I could feel stress melting away.
Gail repeated the process down the right side – arms, midsection, legs – then my feet, and up the left side until she returned to my head.
By then, my whole body felt wrapped in a wonderful glow. I continued to focus on inhaling and exhaling and felt Gail's energy coming through my skull. I began to "see" different colors – almost like being in a dream state, as reds, yellows, and blues swirled in my head. It lasted about half a minute, then she removed her hands and softly said:
"May you be well in mind, body, and spirit.
May you be peaceful.
May you be joy filled and happy."
Gail instructed me to sit up slowly.
"Wow!" I exclaimed. "That was fantastic!" I felt totally relaxed and was in a very pleasant place.
She wanted to know about my experience and seemed quite pleased when I told her what I had felt and visualized. She said that Reiki doesn't affect everyone the same way. Although she transfers energy to her patient, the patient has to be receptive to it. Apparently, I was in the right frame of mind to reap the benefits of my first Reiki session.
I've since had another session with Gail and have recommended Reiki to several friends and co-workers.
I've also gained a greater appreciation for how Care Dimensions' complementary therapies help people who are trying to cope with advanced illness. When living day-to-day becomes a struggle, a brief respite via a Reiki session can make a big difference in a patient's quality of life.
Learn about Care Dimensions'
complementary therapies
, which help ease tension, reduce anxiety, and improve overall comfort for patients.
[ ]
Subscribe
Enter your email address to get
notified when new articles are published.
Search