Remembering a World War II Hero and All Who Fought for Us
Posted on May 26, 2016 by Sharon Dunbar-Link, M.Div.
I heard this statement many times from my good friend, Bob. Bob was a veteran of World War II. He fought in Italy and found himself in the face of danger many times. He was a hero -- he had rescued his best buddy who had "lost his mind" and was wandering aimlessly in a valley between the two warring sides. Bob set down his weapons, raised his hands, and went down into the valley to bring his friend back to safety. After a very brutal battle, he was the sole surviving member of his unit who had held the U.S. position. So, Bob knew what he was talking about when he would comment about current military conflicts and the decisions to send troops into harm's way.
Of great importance to Bob was how people respect or disrespect patriotic symbols, especially the American Flag. To him, the flag represented the cost in human life that war demands. Without words the flag encompassed what he went through during his military service. It spoke to the emotional toll that he paid throughout his life because of PTSD (Post-Traumatic Stress Disorder). And it somehow made sense of his surviving when so many others did not, including enemy soldiers with whom he found himself face to face.
Memorial Day: Honoring Sacrifices
As Memorial Day approaches, I find Bob in my mind and my heart. Whether we remember strangers or friends, Memorial Day is a time to honor the real sacrifices that so many have made for the United States and each of us as citizens. It is a time to acknowledge that in war there are no good choices and to affirm that one of the best outcomes is to have survived.
In the film, "
Saving Private Ryan
," a soldier, later in his life, goes to the American cemetery in Normandy to salute those who saved his life and wonders if the life he has lived is worth their sacrifice. Many veterans that I have met as a hospice chaplain continue to contemplate what it means for them to have survived when others did not. I have heard veterans say, "I should be dead," after living through the most horrific battles with scenes of carnage embedded in their minds.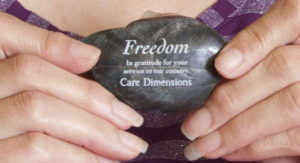 At Care Dimensions, we chaplains are given the honor to present veterans with a Freedom Stone, a simple object to remind them that we have not forgotten their place in the military and the experiences that their military service has brought. Almost every time I give a Freedom Stone to a patient or family member, I am met with profound gratitude and appreciation for remembering and honoring this time in their life. And we are able to affirm that having survived is a gift to their families and to us all.
On several occasions it has been possible to provide a ceremony that includes multiple generations of the veteran's family. When veterans live at a long-term care facility, we include their staff as well. At a recent ceremony, the veteran's grandchildren presented him with pictures they had drawn of what they imagined it was like for their grandfather to have been in the army. And one proudly saluted as their family's picture was taken.
The veterans who I have come to know will often wonder if their military experiences will be forgotten. Veterans of World War II recognize that as they are growing older, there are fewer living members of their units. And recently a veteran of the Korean War said to me, "I was in the forgotten war."
A simple, yet precious gift to give a veteran is to recognize the meaning of their place within the military and the meaning of their lives as heroes and survivors.
Learn about the many features of our Veterans Program, including veterans volunteering for veterans on our hospice service: https://www.caredimensions.org/hospice-care/Specialized-Care-Programs/veterans.cfm.
"Wars are not fought by old men. They are fought by young people."
[ ]
Subscribe
Enter your email address to get
notified when new articles are published.
Search