Taking Care of the Caregivers in Hospice
Posted on October 21, 2019 by Robert Hagopian, M.Div.
In recognition of Spiritual Care Week (a.k.a. Pastoral Care Week, October 20-26, 2019), I'd like to offer a note that I shared earlier this year with my Care Dimensions co-workers after a difficult day. This note – and the compassion that those working in hospice and palliative care display every day – illustrate the importance of this year's Spiritual Care Week theme of Hospitality/Cultivating Space. The theme description includes: "There is value in providing space where one can feel safe and sheltered, space that allows dignity and creativity and spaces where reflection and worship enrich well-being and humanity." Our patients need that space, but so do our co-workers.
Good Evening, my compassionate colleagues,
I found this quote from Mahatma Gandhi that resonated with me tonight after my personal experiences today:
"I offer you peace. I offer you love. I offer you friendship. I see your beauty. I hear your need. I feel your feelings. My wisdom flows from the highest source. I salute that source in you. Let us work together for unity and love."
As many of you know, I am a police and fire department chaplain in Rowley, MA. Early this morning, just before our assisted living and long-term care facility team's monthly meeting, I received a request from Rowley Police to deploy to a tragic accident scene where a young tree service worker was killed. My manager graciously gave her blessing for me to leave our meeting and attend to the needs of those affected by this tragedy. I ministered to the surviving tree service crew members who had watched their friend die and were powerless to stop the accident from occurring. I also debriefed my firefighters and police officers who responded to the emergency and fought valiantly to save the young man's life. Having been a firefighter myself, I have experienced similar incidents and most importantly been part of such a team of devoted professionals trying to save life and property. The love of the team is critical to its operation in the face of challenging situations, whether the result be success or failure. When we are dealt "a bad hand," we play it through to its inevitable conclusion, never giving up, trying to give our patients a fighting chance, but also realistically accepting the results. That is an act of love.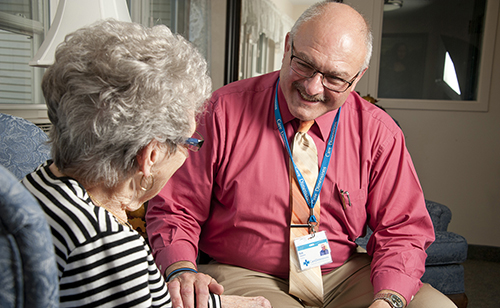 What you and I do every day as a team at Care Dimensions is also an act of love. We never give up on our patients and families, not in that we can change the diagnosis, but that we can make a difference during the time our patients and families have left together on this Earth. This afternoon, I joined my team to minister to one of our patients who is transitioning. Our team along with facility staff, did our part in bringing comfort and peace to our patient who was in pain and distress. The combination of the medications, the loving care that our team provided, my prayers and the playing of hymn recordings on my phone helped our patient relax and find a measure of peace and relief from the pain. Even though our patient could not communicate with us, I believe that this person's soul appreciated what we were doing. This is an act of love.
May you all continue to bring your love to our patients and families in the amazingly effective ways in which you serve. In keeping with Mahatma Gandhi's words: I salute the higher source in you and look forward to continuing to work with you for unity and love.
Have a restful evening, a meaningful and safe day tomorrow and an enjoyable weekend ahead! Stay safe! Peace & much love, Bob H.
Robert Hagopian, M.Div., is a chaplain with Care Dimensions, which recognizes the spiritual caregivers in our midst and the ministry they provide to those of faith or no faith. A chaplain is one part of a comprehensive team available to each Care Dimensions hospice patient. Learn more at: https://www.caredimensions.org/hospice-care/index.cfm.
[ ]
Subscribe
Enter your email address to get
notified when new articles are published.
Search