Wrapping Veterans with Appreciation and Caring
Posted on November 10, 2020 by Lisa Conti
This Veterans Day, more than 125 Care Dimensions patients who are military veterans are receiving a warm "hug" and a salute from the community.
The hug isn't a traditional one, but an afghan created by community volunteers. Care Dimensions, through its We Honor Veterans program, teamed up with Newton resident Diane Donnellan and her Hugcrafters group to bring red, white and blue afghans and eternal thanks to veterans who served our country. The care package also includes a memorial embroidered star from a retired US flag from Stars for our Troops and a patriotic face mask.
Special care and appreciation for veterans are of utmost importance to Care Dimensions. When it was determined that an in-person veterans' recognition event would not be possible this year due to the COVID-19 pandemic, its Veterans Committee thought about other ways to honor veterans. Hugcrafters already was donating afghans for patients at the Care Dimensions Hospice House, so expanding that partnership for the veterans project was a perfect fit.
"My mom had seven brothers, and at one time five of them were overseas during World War II," Donnellan said. "I have a cousin who was badly wounded in Vietnam. It's so important to show appreciation to veterans for what they did.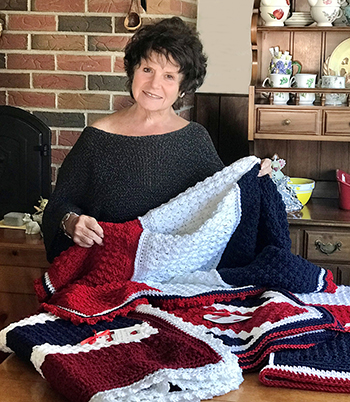 "I put a lot of love into them," explains Donnellan, who has been crocheting for 48 years. "When I'm making an afghan, I think about the person I'm making the piece for. I think about who's going to be wrapping themselves in it and that they can feel that someone cares about them."
The project took off in late August when Donnellan began posting about it on the Hugcrafters Facebook page. Crafters from around Massachusetts and several other states – including New Hampshire, Pennsylvania, Ohio, Georgia, Iowa, North Carolina, Oregon and California – helped far exceed the initial goal of 100 afghans for veterans served by Care Dimensions.
When Donnellan posted a photo of the final afghan she made for the project, she commented, "It's been quite a ride - a wonderful ride."
Learn about Care Dimensions' specialized care for veterans and Level 5 partnership status in the We Honor Veterans program.
About the author
Lisa Conti is Senior Marketing Communications Specialist for Care Dimensions and manages its Voices of Care blog.
[ ]
Subscribe
Enter your email address to get
notified when new articles are published.
Search