Because Love Never Dies

Care Dimensions offers friends and family members the chance to remember loved ones at remembrance programs and with touching tributes, permanent memorials and fundraising events.
Remembrance Programs
Every spring and fall, Care Dimensions holds Remembrance Programs and invites the families of our patients to join with us for a non-denominational service of readings and songs that commemorate and honor those we have lost.
Community Events and Fundraisers
Care Dimensions offers several events each year for the community and the families of our patients to come together to remember and celebrate those we have lost, while also raising money to help Care Dimensions continue its mission to help others. For more information on these events, please click the links below.
More Ways to Honor a Loved One
You can also make a gift to honor someone who has touched your life. Your contribution will help others receive the gifts of comfort, peace and dignity in the caring hands of Care Dimensions staff. As a not-for-profit organization, Care Dimensions is fully qualified to receive tax-deductible donations as provided by law. For more information on these donor programs, please click the links below:
Call Today
For more information about our remembrance programs, community events or donor programs, please call 855-774-5100 or email [email protected].
An Invitation to Remember
View our Spring Service of Remembrance, an homage to loved ones lost.
Welcoming of everyone, for all individual faiths and beliefs,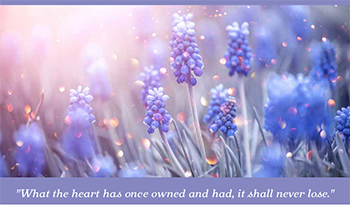 this service of readings, music and ritual offers you the opportunity to remember loved ones at a special time and place. Watch our service:
CareDimensions.org/SpringService2021