Featured Story
You're Doing a Good Thing, Young Lady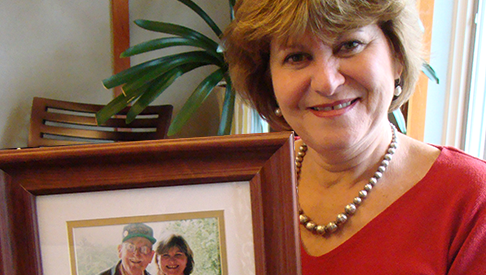 Seven years ago, Elaine Champagne's Uncle Henri passed away at the Kaplan Family Hospice House surrounded by his family and the music he loved. "There were no bright lights or machines beeping through the night," said Elaine. Instead, the environment was comforting, serene and supportive. "It was what my uncle needed at that time in his life."

When Elaine lost her parents at a young age she "adopted" her Uncle Henri and his wife Madeline. As the years advanced, Elaine became the main caregiver for Henri and also his healthcare agent. Together they shared a wonderful bond, fortified by love of family and of history. Henri, an avid student of genealogy, traced the Champagne family roots back to 1619. "He was so proud of his family history and of his service to his country, including being a survivor of Pearl Harbor," recalls Elaine.

At 86, Henri's health took a steep decline, complicated by idiopathic pulmonary fibrosis. He was in and out of hospitals and Elaine remembers him being hooked up to machines. Something he didn't want. Being familiar with Care Dimensions (formerly Hospice of the North Shore & Greater Boston), Elaine and her uncle decided that care at the Kaplan House was the best option for him. "The staff and everyone at the Kaplan House treated my uncle with dignity and respect. They were genuinely interested in his wishes," said Elaine. "Being able to share this time with my uncle was the most profound experience of my life," she said.

Reflecting back on the end of life experiences within her circle of family and friends, Elaine felt compelled to help ensure that others have the benefit of hospice care when they need it. "Since we don't have children, my husband and I wanted to make a meaningful contribution through planned giving to Care Dimensions. "Our exposure to Care Dimensions allowed us to see that there is a better way to care for someone at the end of their life. And we want to support that care," said Elaine.
While our website will give you a better understanding about hospice care and the services that Care Dimensions provides, no one can tell the true story quite like our patients, families and staff. We encourage you to take a moment and read their stories and watch our videos.
You'll be forever changed as you learn about life's difficult final journey and the amazing patients, caregivers and staff who've embarked on the experience together.
---