Featured Story
Building a Legacy of Giving Back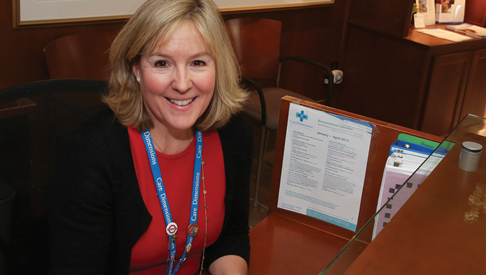 It all started with an invitation. When Allison and Preston Bradford relocated to the North Shore 20 years ago, Allison's college friend invited them to the
Hospice Regatta and Auction
for a fun night out supporting a great cause. Instantly, a deep connection was made.
Allison, who had recently lost her mother to cancer and had witnessed the profound impact that having the right resources and people to help could make during the end of a person's life, was drawn to the mission of Care Dimensions because she knew it was a place where she could make a difference.
Allison and Preston joined the Hospice Regatta and Auction Committee and over the next 13 years, they worked on every aspect of the event, making friends, having fun and raising a lot of money to underwrite critical hospice programs not covered by insurance.
In 2009, Allison's commitment to Care Dimensions took on a new, more personal expression through volunteering her time. She can be found at least two days a week at the front reception desk at Kaplan House greeting visitors and families with a warm smile and a calm, inviting demeanor. "I knew I could make a difference in someone's day whether it was by listening; holding a hand, giving a hug, or offering a smile." Alison said, "It's the little gestures that often make the most difference."
When it became clear in 2010 that the
Kaplan Family Hospice House
needed to expand to keep up with patient demand, Allison and Preston stepped up again and took on an even greater challenge by co-chairing the Gala Committee to raise funds for the new wing at the Kaplan House. Drawing a crowd of 300, the Gala raised $200,000 to support the construction and to extend needed care to the community.
"The values of supporting our community, making a real difference in people's lives, and leaving a lasting legacy are important to us," said Preston. "As we reviewed our financial plans this year; it became clear that designating Care Dimensions in our estate plans would help us accomplish those goals." By making that committment to Care Dimensions, Allison and Preston becamse two of the newest members of the
David Sherman Legacy Society
.
"For us, donating our time and our financial resources has come naturally as our understanding of the real work of Care Dimensions has grown, and with it, our committment to the people it serves, said Allison. "We know that our gift through the Legacy Society will help families in countless ways in the future."
While our website will give you a better understanding about hospice care and the services that Care Dimensions provides, no one can tell the true story quite like our patients, families and staff. We encourage you to take a moment and read their stories and watch our videos.
You'll be forever changed as you learn about life's difficult final journey and the amazing patients, caregivers and staff who've embarked on the experience together.
---